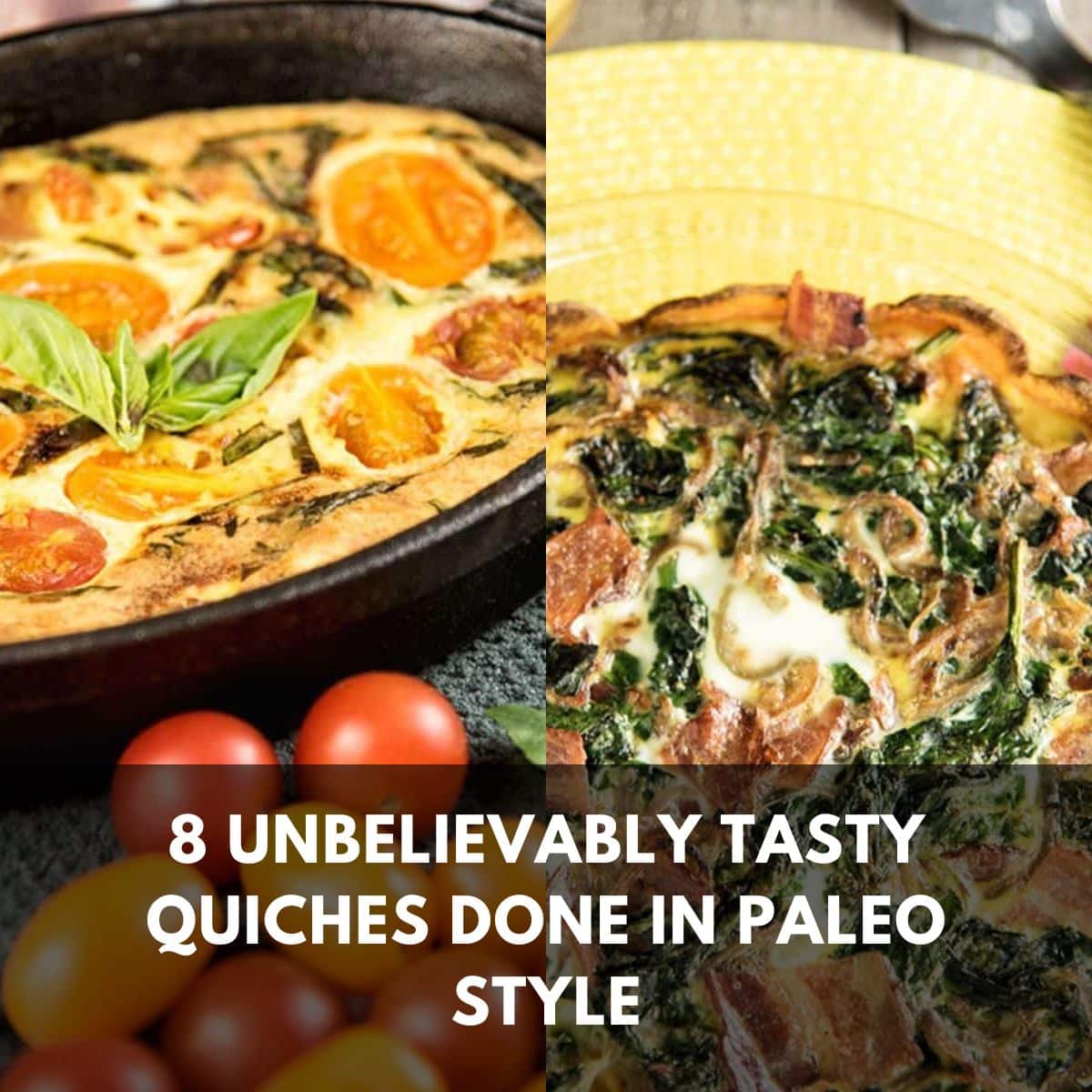 The paleolithic diet is all the rage these days.
Paleo, also called the caveman diet, consists of eating foods similar to those our ancestors consumed, including meats, eggs, fish, nuts, fruits, and vegetables.
Because of its restrictions, the Paleo diet requires some adjustment. Most people who transition to the paleo diet struggle to recreate their favorite foods.
Thankfully, we've assembled this guide to provide you with eight unbelievably tasty quiches done in paleo style. Quiches are among the most versatile recipes—and so delicious.
You can draw from this list to recreate your favorite quiches in no time—without sacrificing your commitment to health and fitness.
8 Tasty Paleo-Friendly Quiche Recipes
If you're looking for an excellent quiche recipe that's also Paleo-friendly, look no further. From simple and savory to flavorful and versatile, this list is sure to have something to please your palate.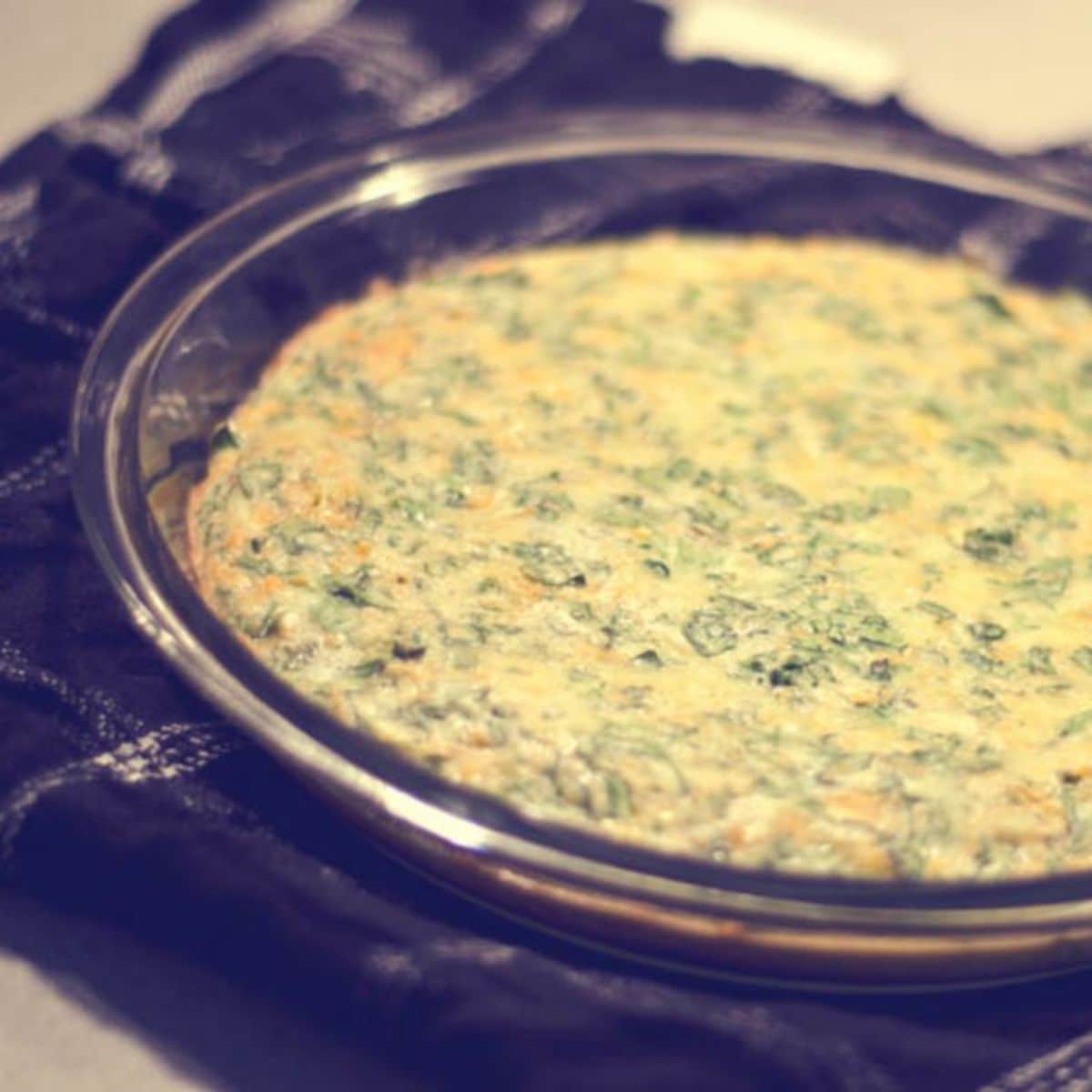 A basic spinach quiche is a must-have for every Paleo household, and this recipe is sure to impress.
You'll need five eggs, spinach, onions, garlic, coconut milk, and baking powder. You can use a nut flour for the base, though it's better for your health to do without.
Consider adding cheese to your quiche if dairy is part of your diet. If not, you can season it with salt and pepper.
Lastly, add assorted vegetables to spice it up a notch—or read on for some of our more creative ideas.
The recipe takes up to 45 minutes and serves up to three people. It's a delicious and simple way to start your morning, but don't be afraid to enjoy it as part of your mid-morning snack or evening bite.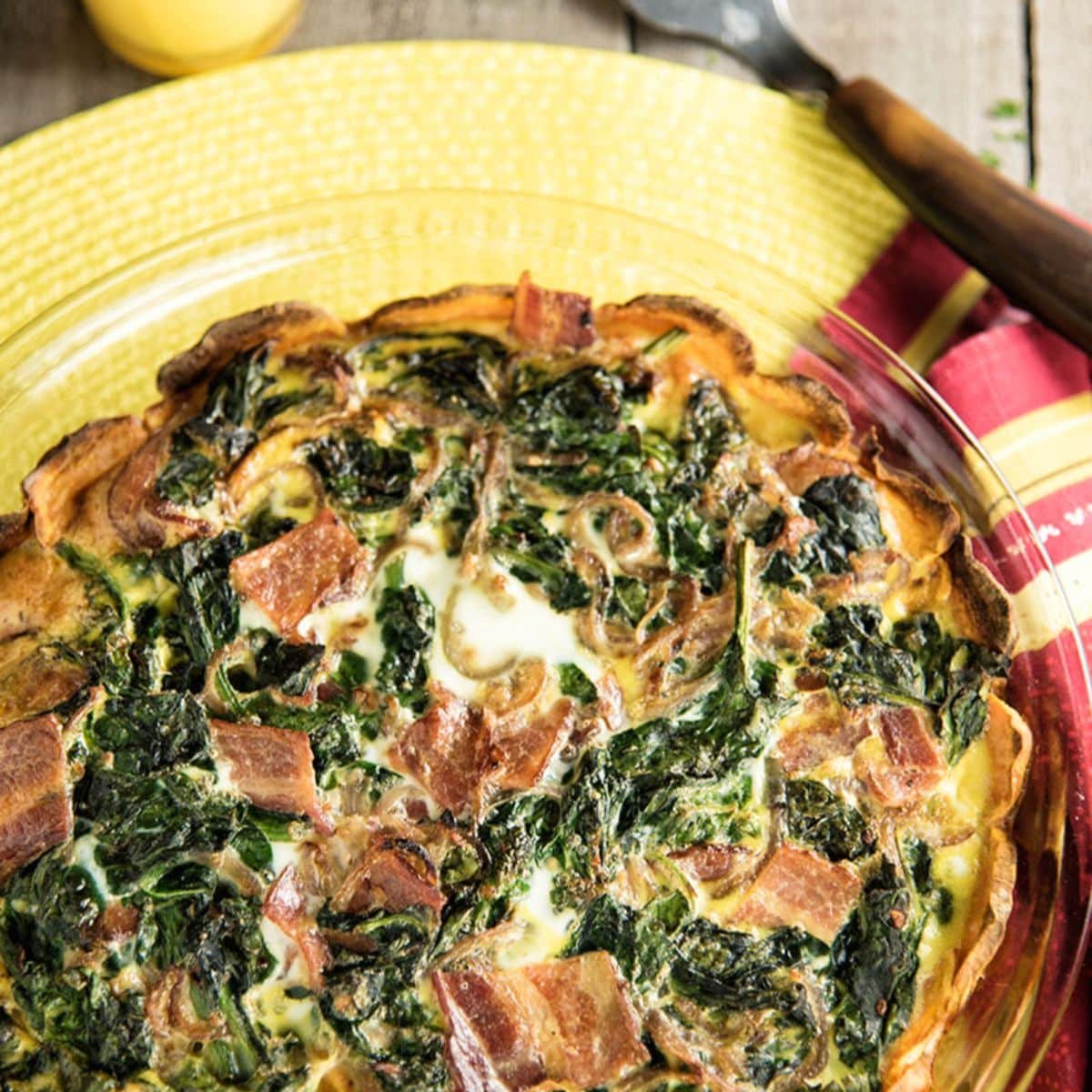 This recipe is one of our simplest—and also one of the best.
Although you can use nut flour for this quiche, many paleo dieters prefer spaghetti squash. Sweet potato is an excellent alternative to traditional crusts because it offers a softer feel and earthier taste.
This recipe requires sweet potatoes, eggs, bacon, onions, garlic, chives, olive oil, cooking fat, and black pepper. It takes roughly 75 to 90 minutes to cook and serves four people. You can make more miniature handheld quiches by dividing the ingredients.
Consider pairing this quiche with one of our Paleo soup recipes, or try a side salad to add some freshness and crunch to your meal.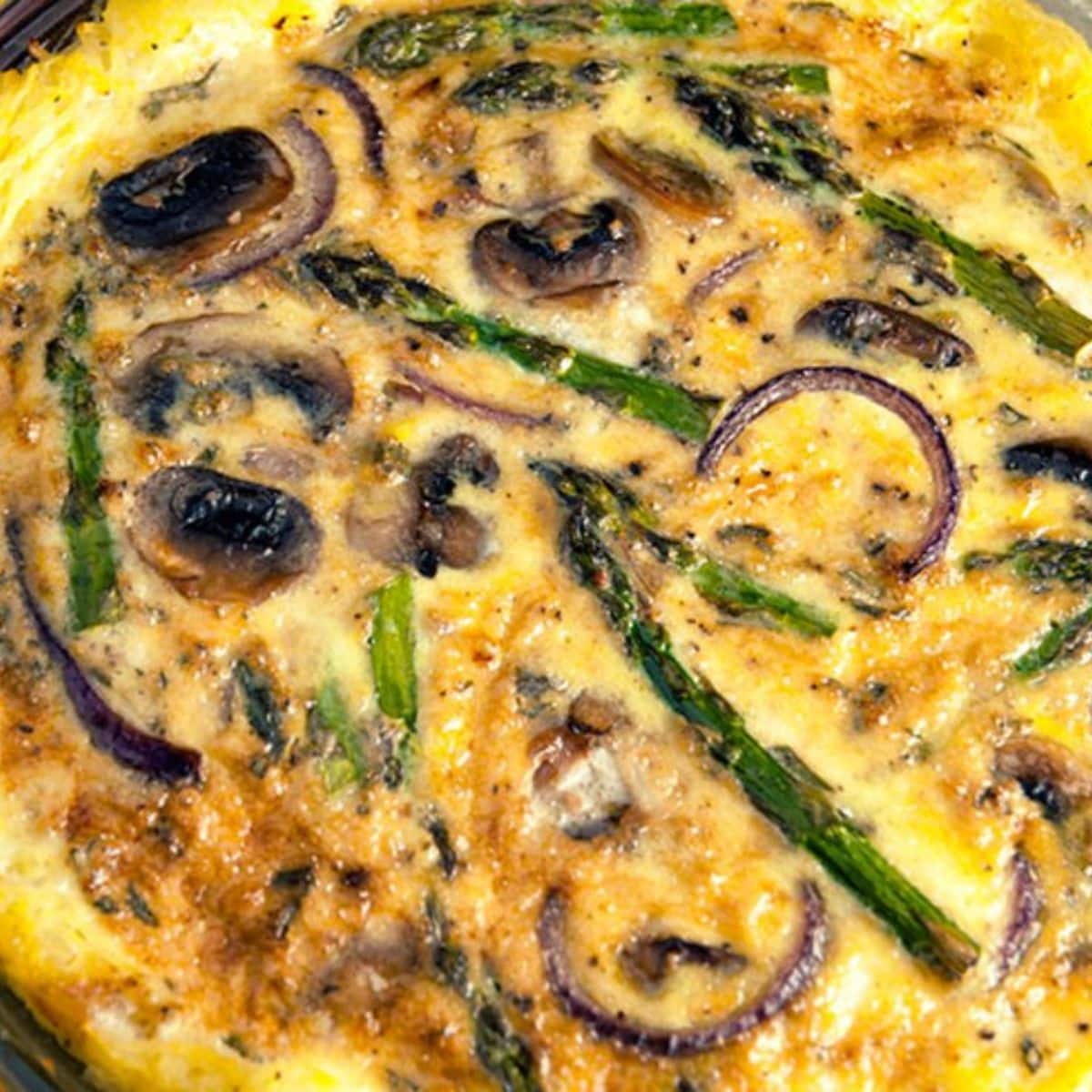 This recipe is an all-time favorite.
A spaghetti squash quiche uses spaghetti squash instead of crust—a perfect solution if you're looking for healthier and more sustainable alternatives to nut crusts.
You'll have to make the squash first, though the process is relatively easy. Then, you can add the contents of the quiche to your liking. Because it's a simple recipe, you can add additional ingredients to your taste.
To taste, you'll need spaghetti squash, asparagus, onions, mushrooms, garlic cloves, eggs, coconut milk, rosemary, and pepper.
Quiches generally keep well, so consider making this dish for the week ahead; you can even freeze it before baking and cut down on prep time on busy mornings.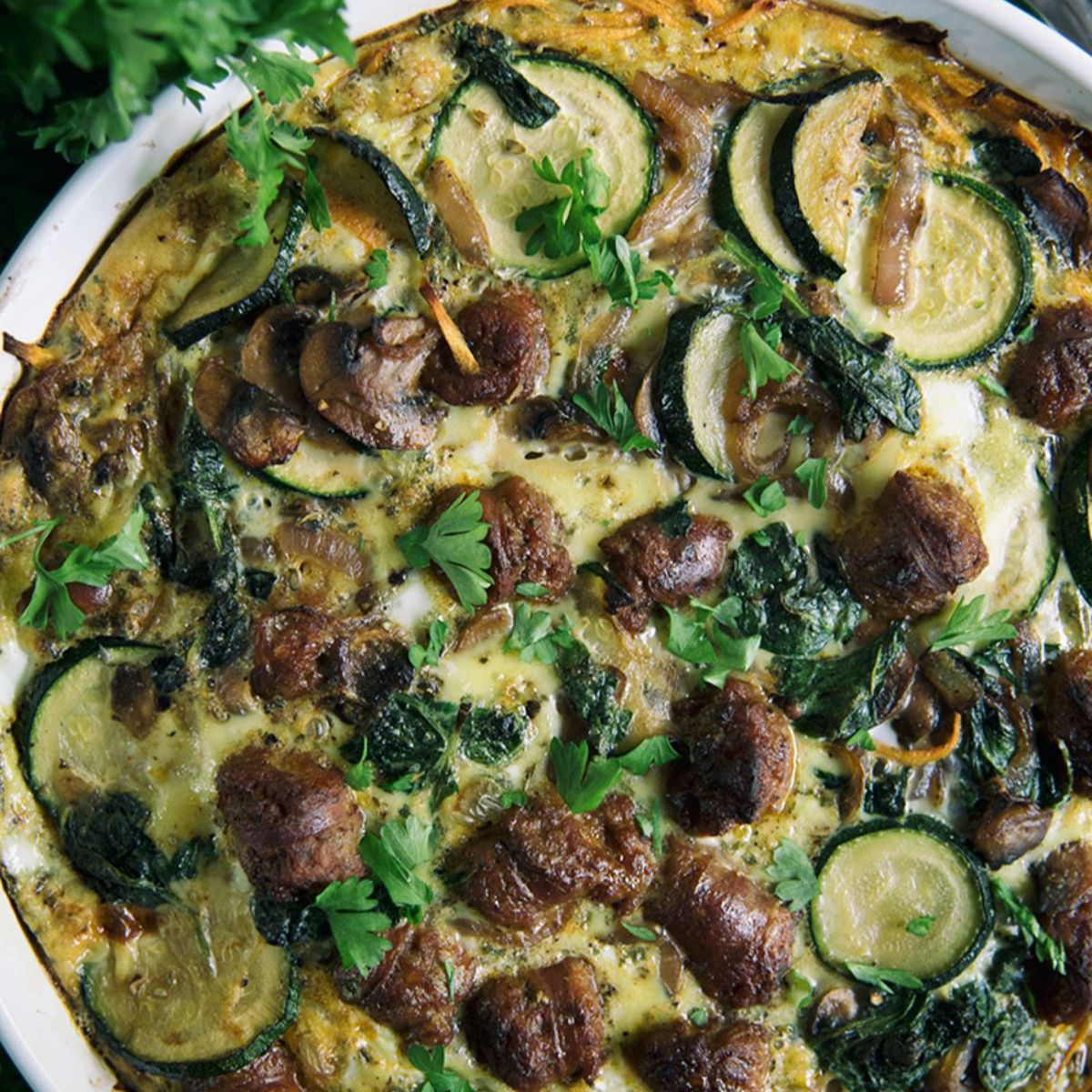 Choose this recipe if you're looking for a more protein-rich variation on the traditional quiche.
Adding sausage to your quiche is an excellent way to bring out its rich, earthy flavors and contribute to your protein count.
The recipe takes roughly 90 minutes to make and serves four people. You'll need the traditional ingredients for a quiche, including eggs, vegetables of your choice, cooking fat, coconut milk, and seasoning.
Then, add your sausages (cooked and sliced) and any other meats or vegetables you want to add!
However, this quiche doesn't keep as long as others since meat is more perishable. Remember to store your quiche correctly and seal it to preserve it longer!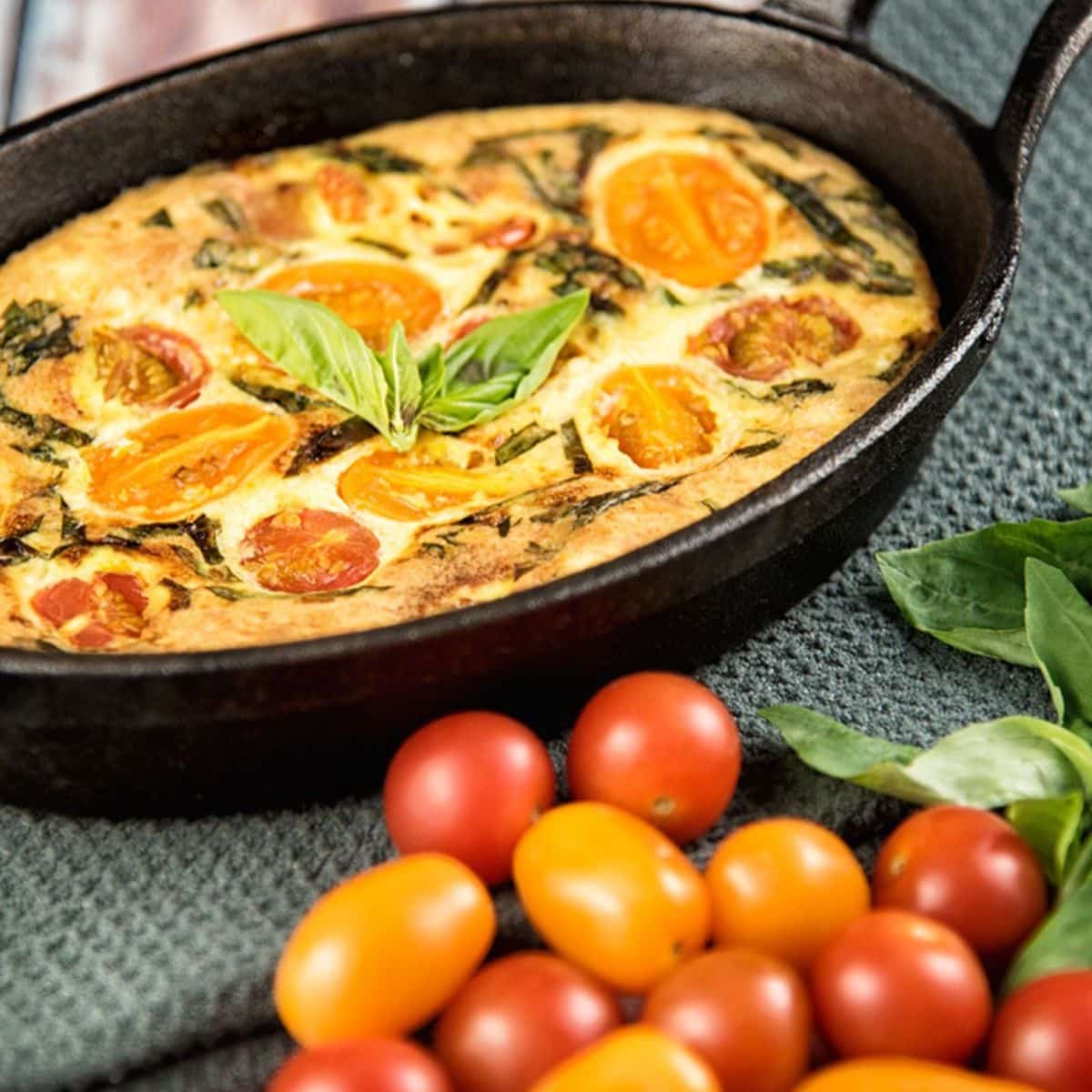 This quiche puts a Mediterranean twist on the traditional recipe, adding unparalleled freshness and flavor with unique ingredients.
The cherry tomato and basil quiche recipe is similar to the recipes detailed above. However, this quiche tastes best with almond flour. If you plan to use almond flour, remember to regulate your intake of nuts since too many can adversely affect your health.
This quiche only takes 35 minutes to make and tastes great for the rest of the week, though you may lose freshness in the tomato.
You'll need eggs, garlic, tomatoes, almond flour, cheese, and a seasoning of your choice. As with any other recipe on this list, you can substitute ingredients or change them up to put your unique twist on flavors.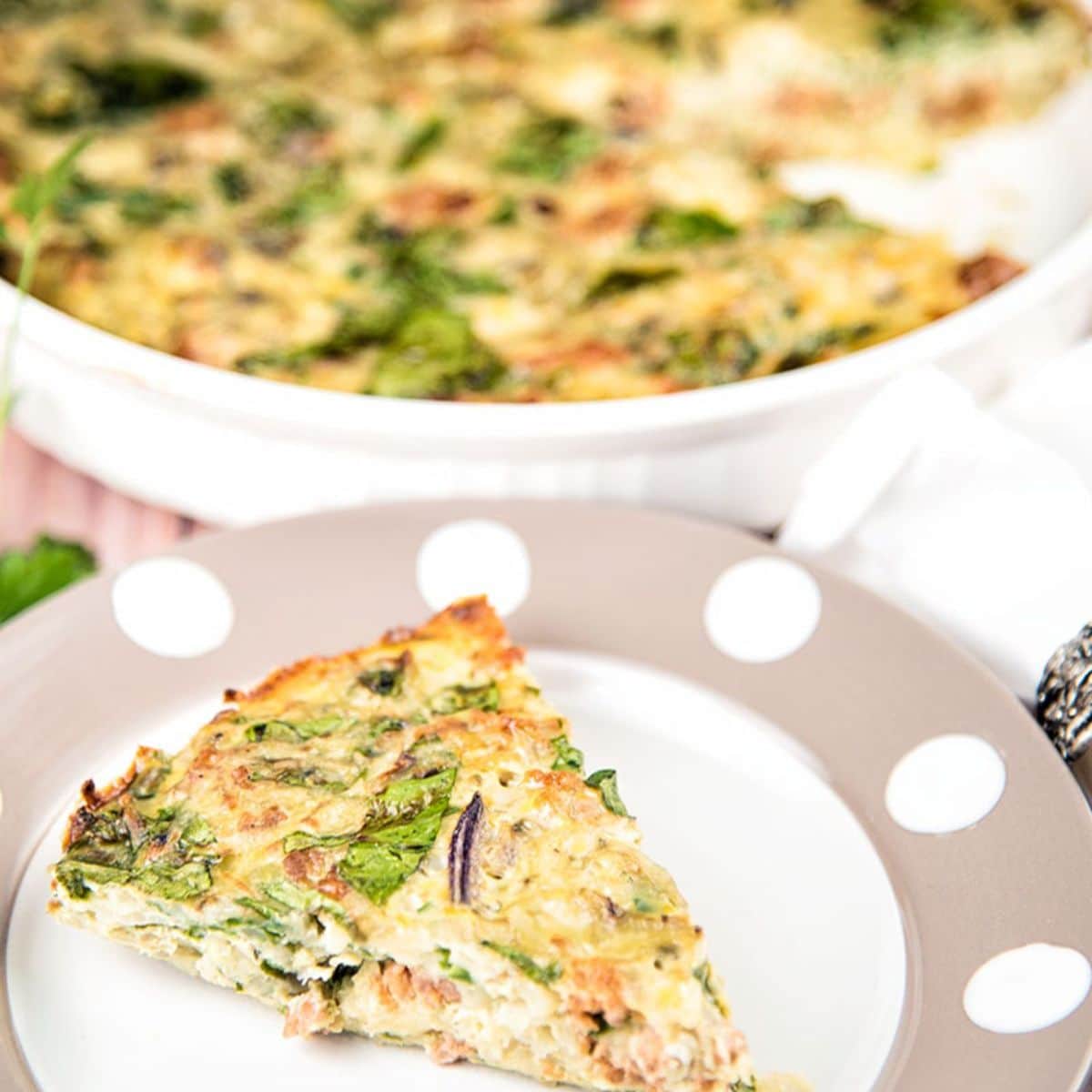 A casserole isn't precisely a quiche—but you can quickly turn it into one!
This favorite recipe consists of potatoes, sausages, and plenty of greens. If you plan to follow the casserole recipe, you'll beat the eggs into a pan and cook everything together.
To make a quiche, all you have to do is add a crust. You can use nut flour (almond flour tastes best with this one) or mimic our spaghetti squash quiche recipe detailed above.
Alternatively, you can go without a crust altogether, and we're pretty sure it still counts as a quiche.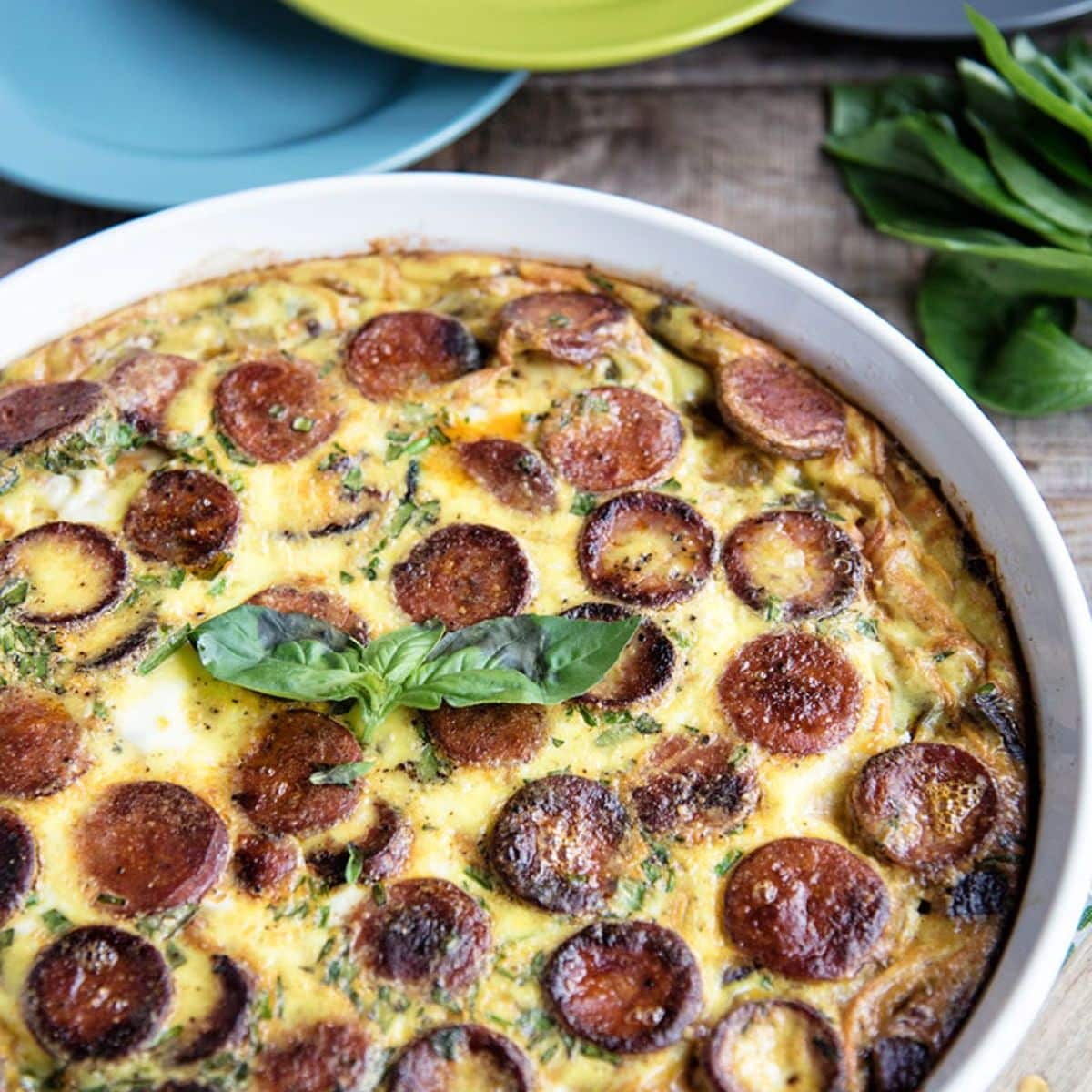 Whether a quiche or a casserole, this dish will take your cooking to the next level.
You can make this dish to prepare for the week early, and it's versatile to eat at any meal.
To taste, you'll need eggs, sausages, sweet potatoes, almond or coconut milk, garlic cloves, basil, chives, cooking fat, and seasoning.
The recipe shouldn't take you much longer than an hour from start to finish, and you can add any additional ingredients that you'd like.
As with other casserole recipes, you must add a crust to make this quiche. You can use almond flour or opt for a spaghetti squash crust. If you want crust ideas, read one of the quiche recipes above.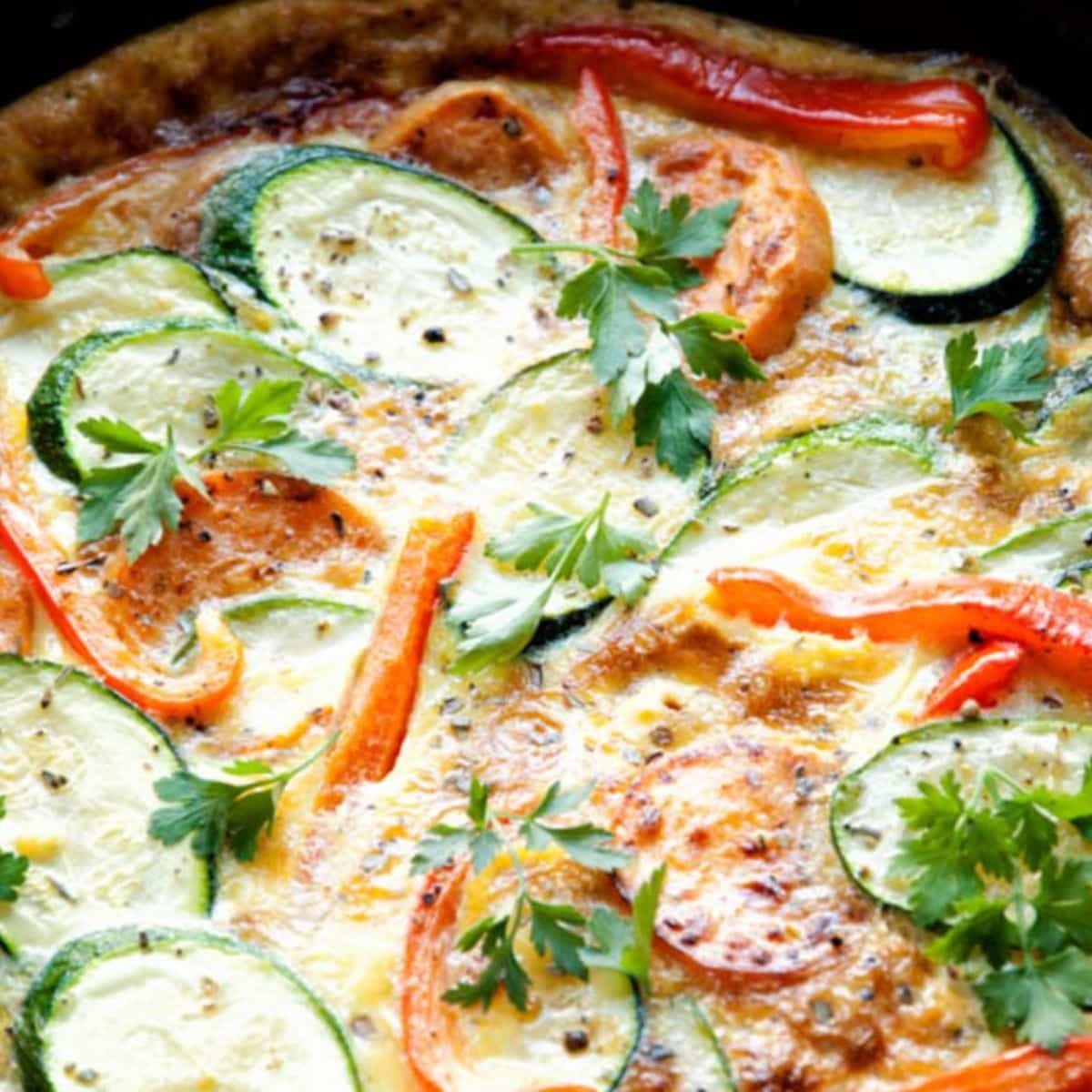 Although this recipe is technically a frittata recipe, you can follow the instructions for the basic quiche and use these ingredients.
Simply make the zucchini, red bell pepper, sweet potato, and any other vegetables you plan to add to your quiche. Then, follow the instructions for the basic spinach quiche recipe above. You can add nut flour to your quiche to re-create that pastry-like taste, or you can go without it (we recommend this option if you can!).
If you want to make the frittata as is, you'll simply cook it like a fluffier version of an egg. Don't forget your ghee or coconut oil to ensure an ultra-soft feel since a frittata's texture sets it apart from an omelet (and enhances the taste!).
Wrapping Up
Hopefully, you've found the right quiche recipe for you and your family.
Consider starting with a simple spinach quiche and adding more ingredients. You can continually improve and add to our recipes. If you love what you've made, consider sharing it with others too.
Remember to experiment with your recipes to find a taste that you like. Recipes are meant to be used as inspiration—now it's your turn to add your flair!