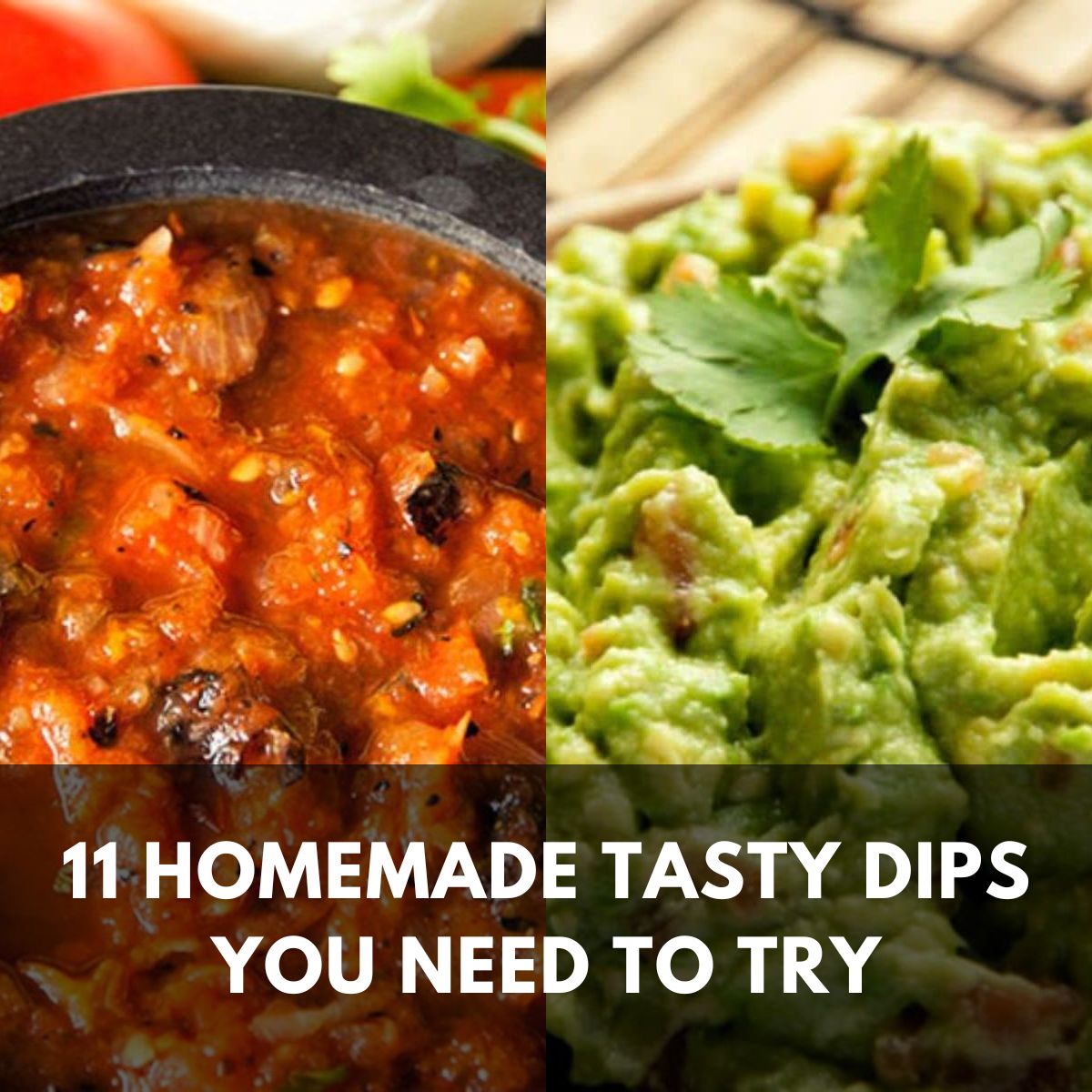 Who doesn't love a good dip? All the best parties are filled with delicious dips for you to sample, but this can be a nightmare for those following a paleo diet. Whether you're following a paleo diet for weight loss or general health, there's no reason you should have to miss out on tasty dips.
Next time you're throwing a party or are in charge of bringing a dish to the potluck, why not bring one of these 11 homemade paleo-approved dips?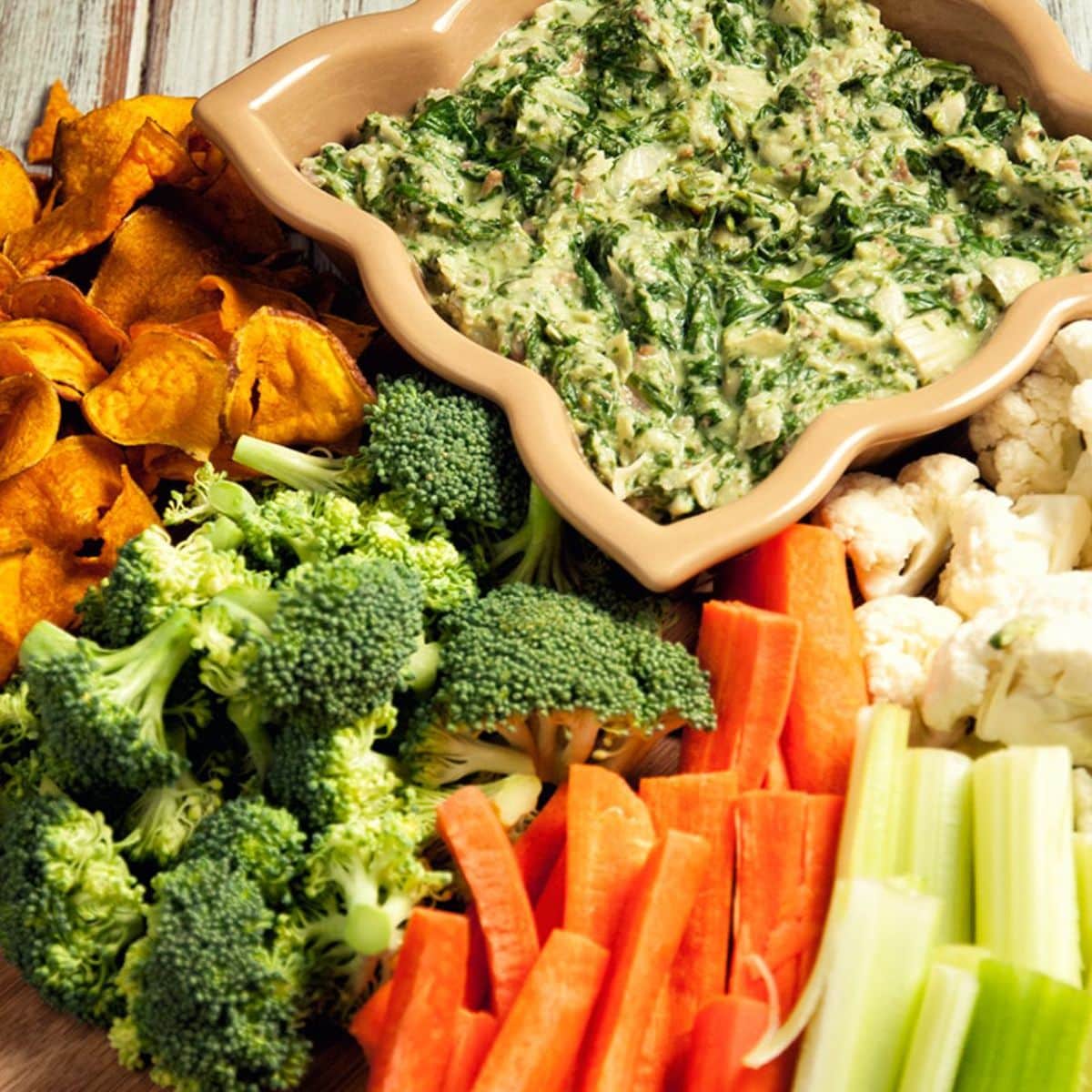 Spinach and artichoke dip is one of those dishes everyone looks for at a party or potluck. It's easy and delicious, and you can dip a variety of different things in it, and it will always taste good.
This paleo spinach and artichoke dip contains coconut milk rather than cream. Before you freak out, no, you can't taste the coconut.
The combination of creamy coconut milk, spinach, artichoke, and the best ingredient, bacon, make this a crowd-pleaser. It only takes 15 minutes to make and makes for a great party dish or even a snack at home.
If you love a good egg salad, then you have to try our egg salad dip recipe. It's full of protein, tastes great, and works well on your favorite veggies or paleo crackers.
The dip is easy to make, and the longest is hard boiling your eggs. This egg salad dip is loaded with fresh herbs like dill, chives, basil, and many other seasonings.
You can alter some of the spices if you want, but you'll have a delicious dip fast. The end result is a fluffy and tasty dip you'll make over and over again.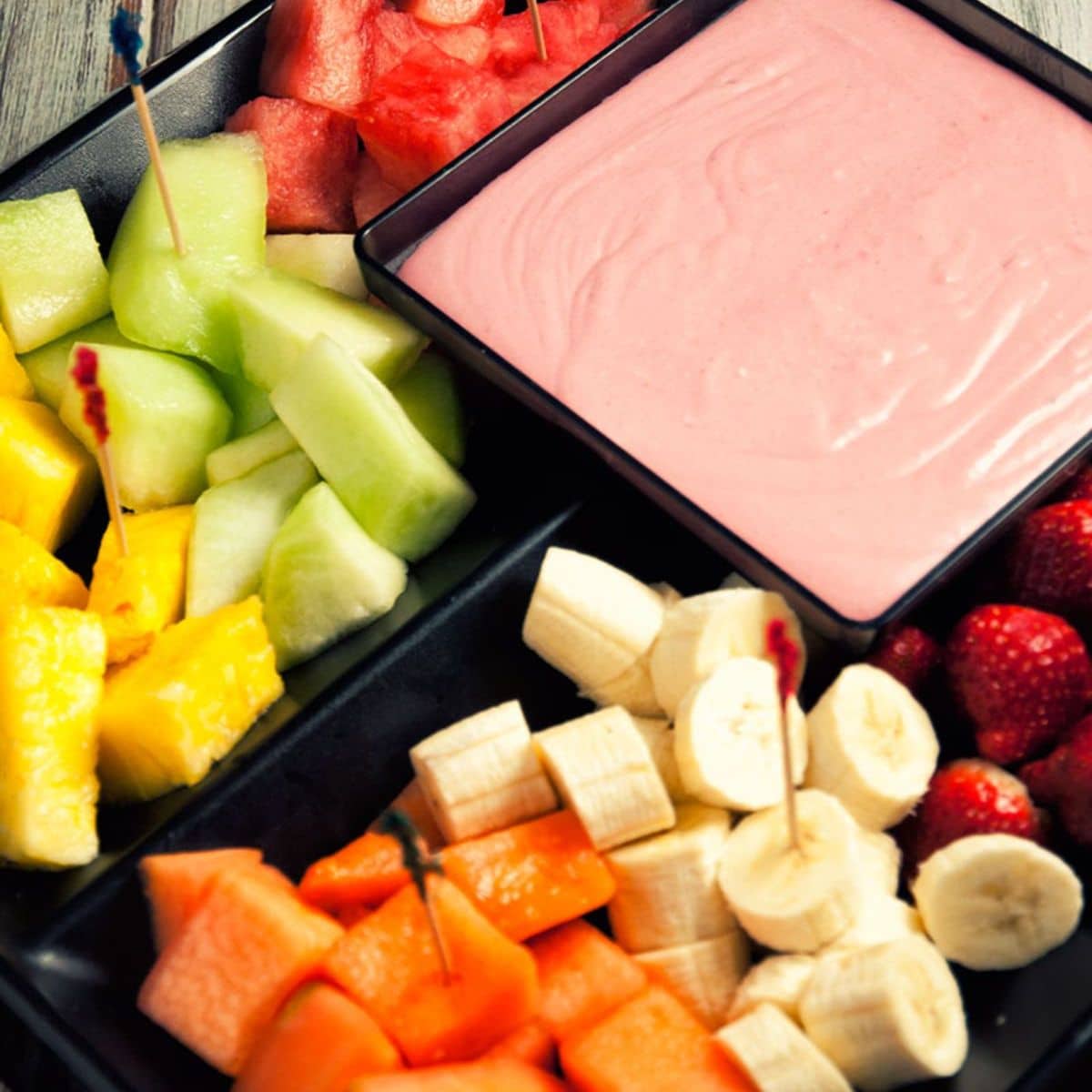 Not all dips have to be savory. When craving something sweet, our raspberry-lime fruit dip must be on your must-try list.
The dip is a beautiful pink color and pairs well with all your favorite fruits. We recommend strawberries, pineapple, and green apples, though. You'll only need raspberries, lime juice, honey, and coconut milk.
You can have this sweet treat ready in 15 minutes, making it perfect when you're in a rush. The best part is that you can serve it as an appetizer, snack, or dessert.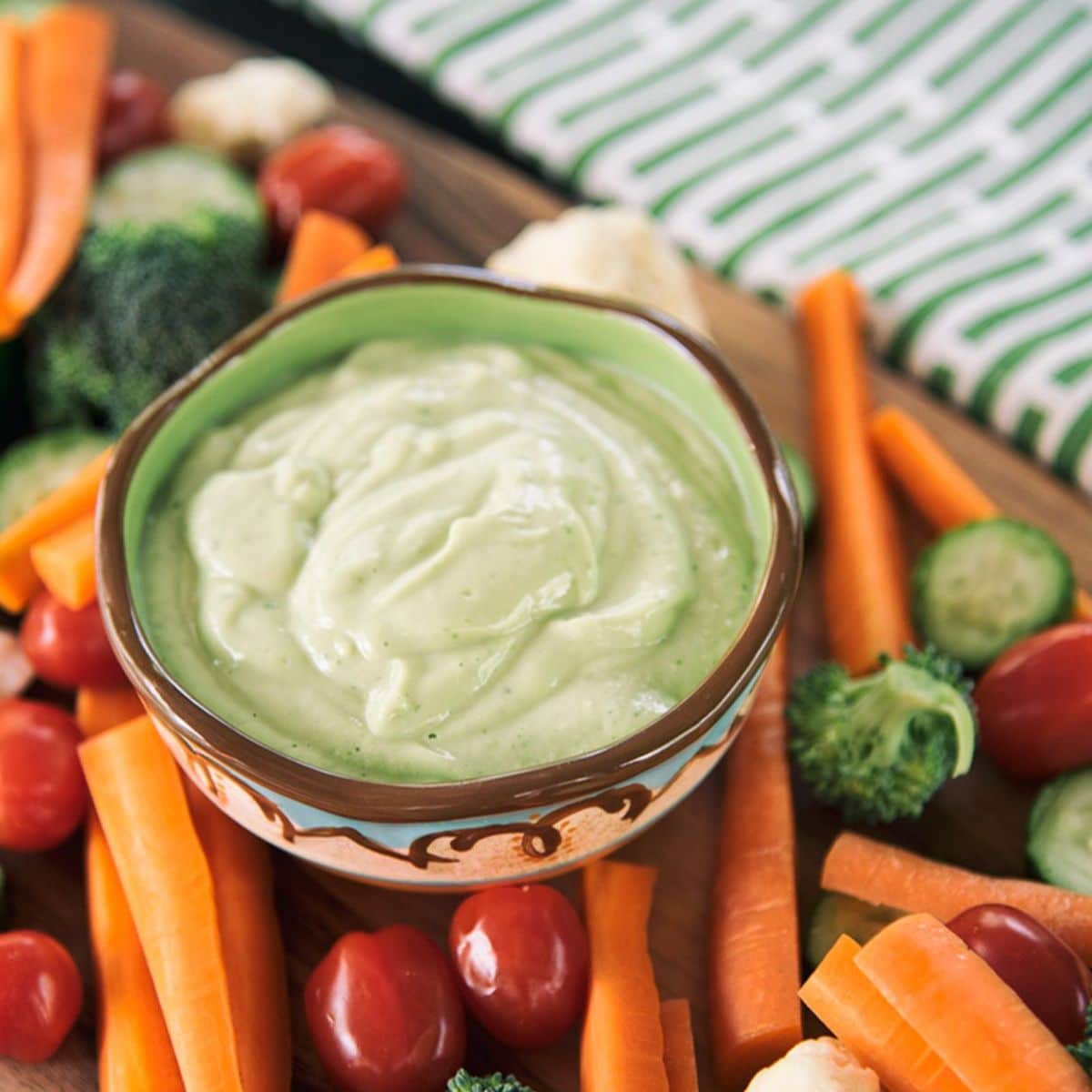 You can't go wrong with a good veggie dip. Whether you need a quick snack or are throwing a party, this avocado vegetable dip will surely satisfy you.
This paleo avocado vegetable dip consists of creamy avocados, paleo mayonnaise, coconut milk, and the perfect combination of seasonings. You can top the dip with fresh cilantro, but that's completely optional.
The dip only takes 15 minutes, so it's perfect when you need something fast. Even if your friends aren't paleo, it's an excellent option for everyone, especially your vegetarian friends and family.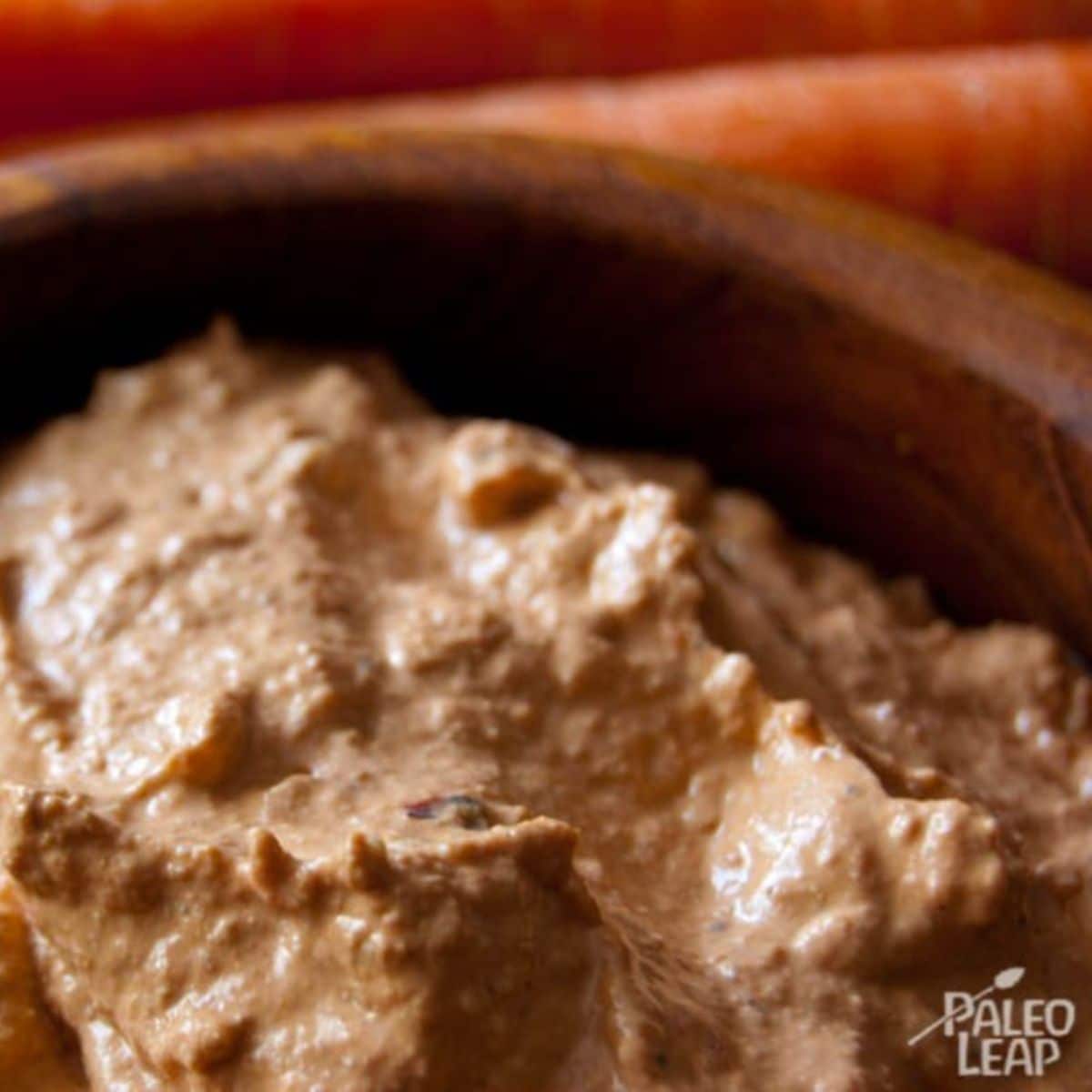 Our red pepper dip isn't overly spicy, but you can add more seasoning to increase the spice level. That's one of the reasons it's so popular in the paleo community.
If you or anyone making this dip has a nut allergy, it's best to steer clear. The dip requires the combination of several nuts like macadamia nuts, almonds, walnuts, or pecans.
Now that we've covered the basics let's get to what makes this red pepper dip red peppery. You'll get this tasty dip with a whole jar of roasted red peppers, cumin, black pepper, and lemon juice.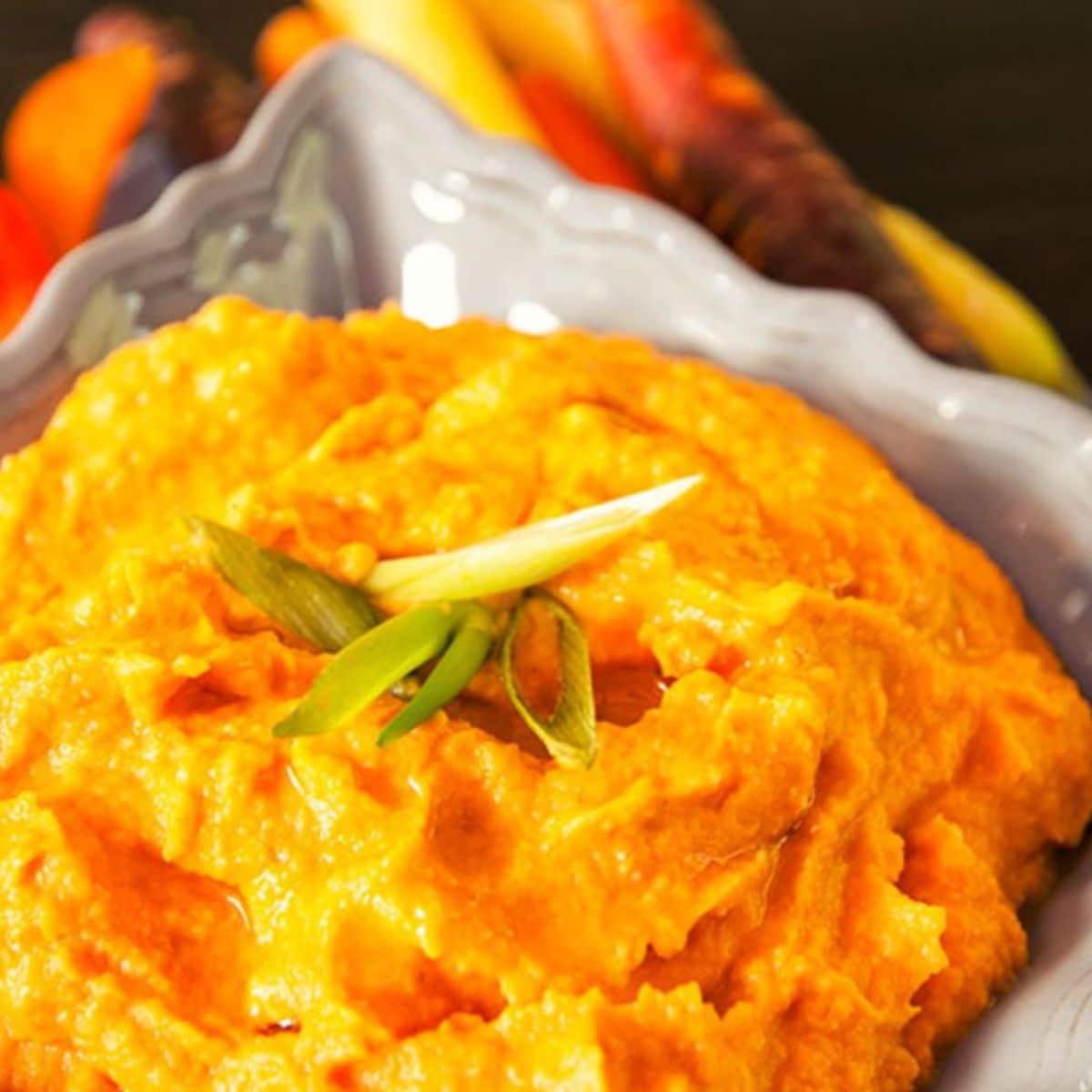 Paleo newbies might not know, but chickpeas aren't paleo! So, that means almost all store-bought hummus off limits. Luckily, sweet potato hummus is a great option when craving hummus or serving snacks.
Mostly, this hummus recipe is similar to others, but the main difference is that sweet potato is the base.
You'll still add tahini, garlic, lime juice, and salt and pepper to make a delicious dip. The longest part of this dip is boiling your sweet potatoes, but once that's done, you can whip this dish up in minutes.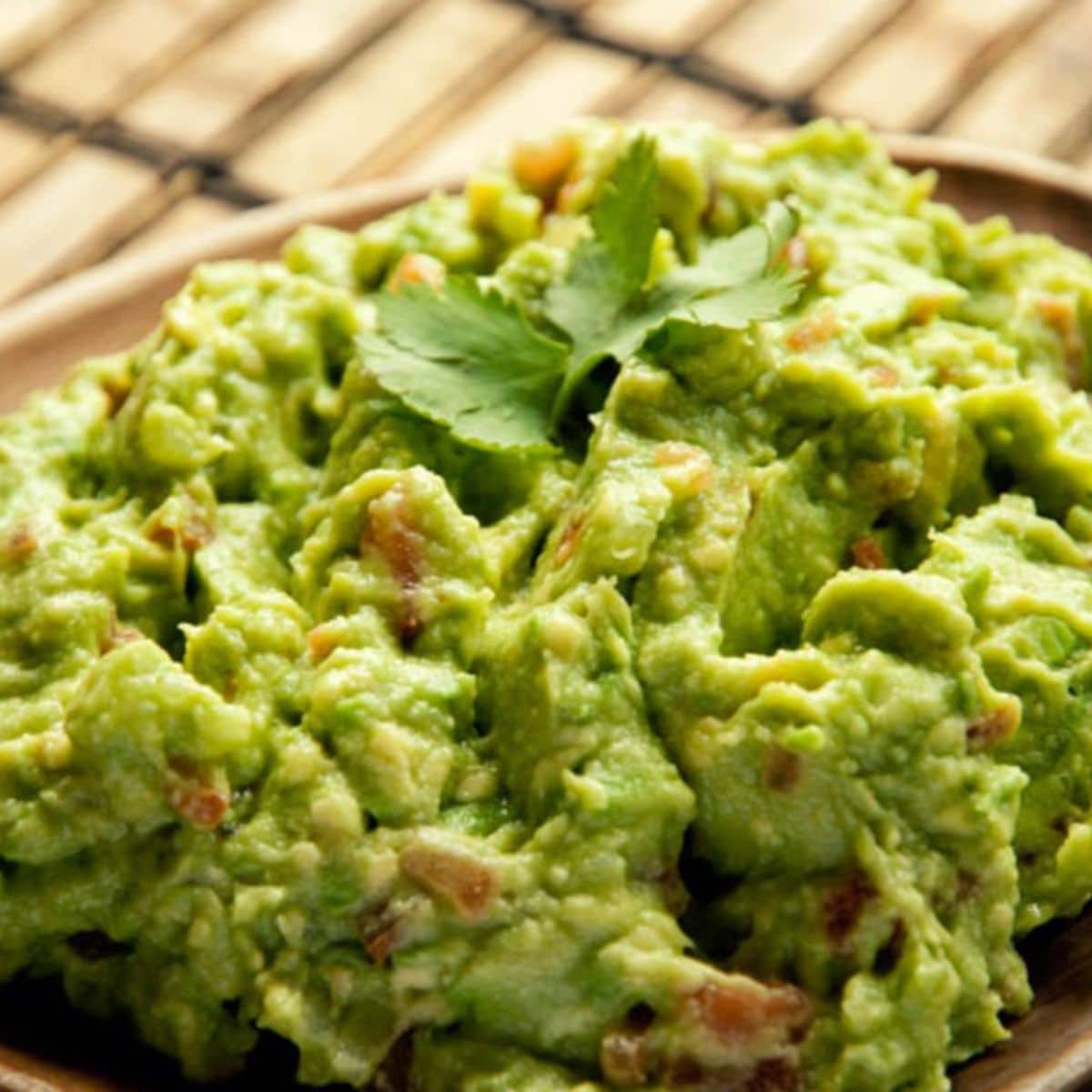 You can't have a party without a bowl of guacamole! Well, you can, but why would you want to? This guacamole recipe is super easy and naturally paleo.
All you'll need are avocados, tomatoes, onions, cilantro, and lime juice. You can add salt and pepper to taste, but it's not necessary. You can substitute lime juice with lemon juice, but lime juice tastes more authentic.
Anyone can make this guacamole dip in five minutes or less, so why wouldn't you want to make it for a party, snack, or to top your favorite dish?
If you want a dip not often made for parties or snacks, try this paleo baba ghanoush recipe. Like other dips, you can serve it with paleo crackers or veggies.
This dip takes slightly longer than some of the other dip recipes we've mentioned, but you can still make it in about 45 minutes. The longest part is cooking the eggplants until they're very tender.
The ingredients are simple. Besides eggplants, you'll need garlic, olive oil, tahini, lemon juice, cumin, and salt and pepper to taste. You can top it with some fresh parsley if you're feeling fancy.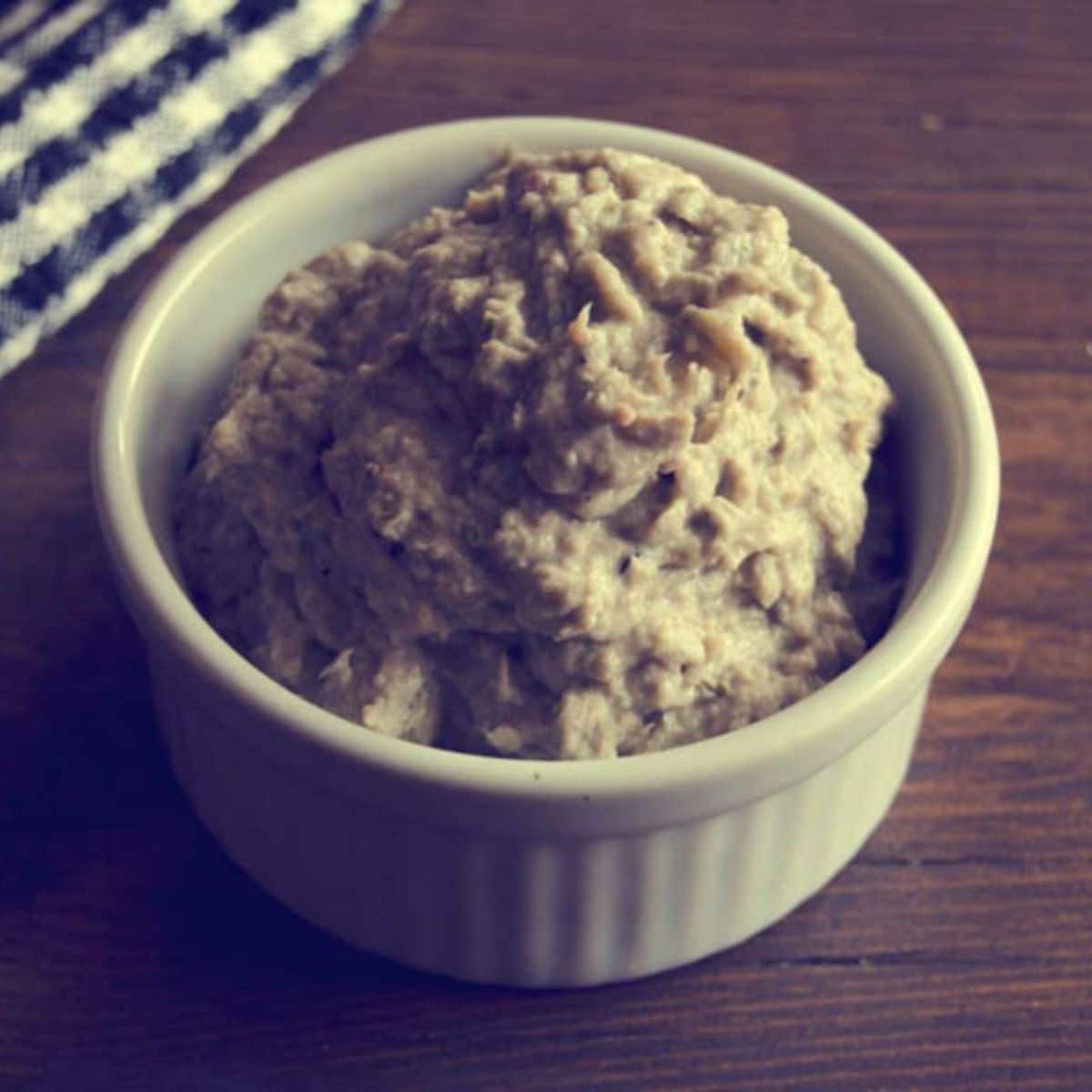 If you're looking for a unique dip or spread to add to your charcuterie board, this sardine and roasted garlic spread is it. It won't be everyone's cup of tea, but don't knock it until you try it!
Many people will be put off by sardines being one of the main ingredients, but it just works with the combination of all the others. You'll need sardines, roasted garlic, capers, red wine vinegar, and other essential ingredients.
This dip takes about 50 minutes to make solely because you have to roast your garlic in the oven before making it. Even still, it's worth your time.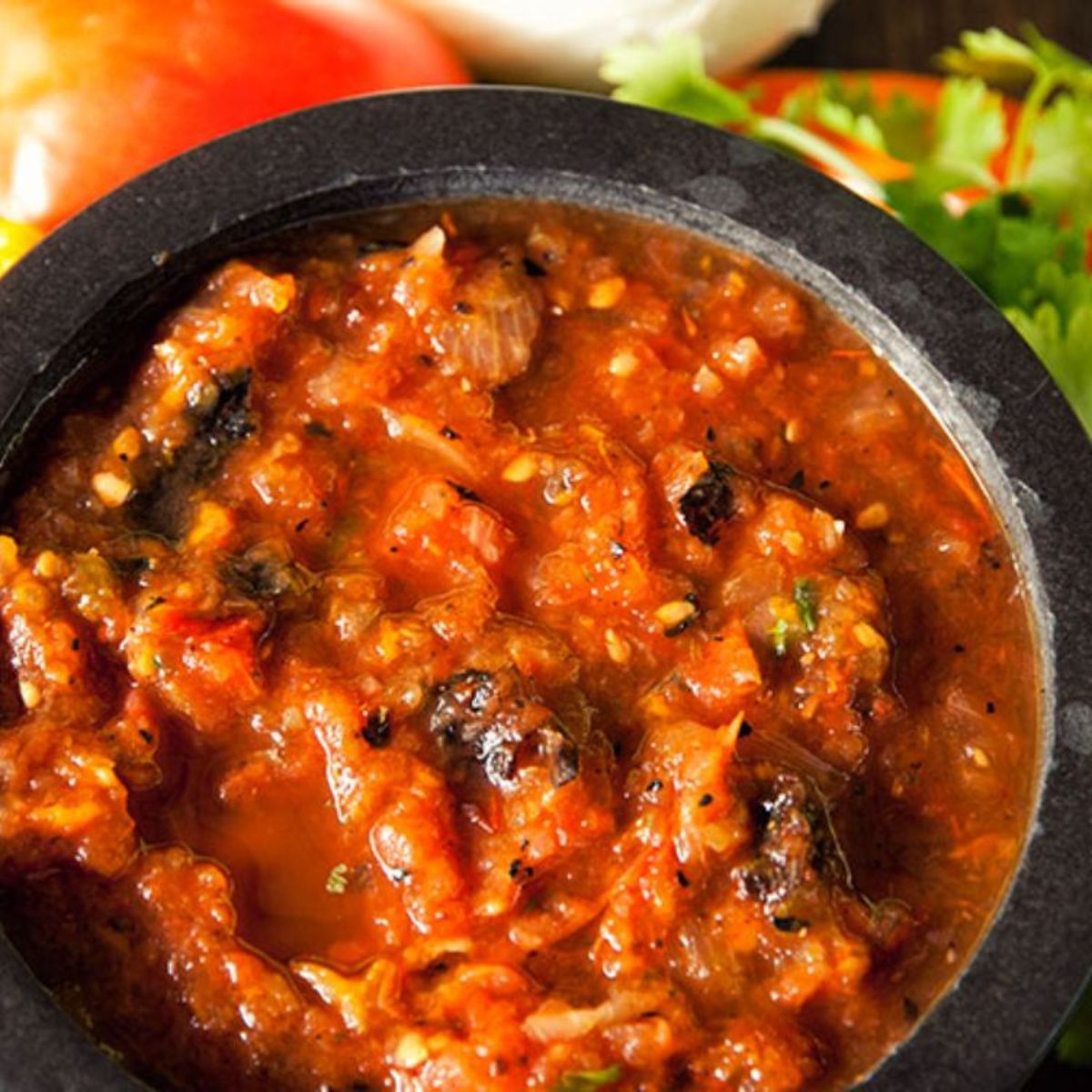 You can't have a party without salsa like guacamole, and this fire-roasted salsa is sure to be a crowd-pleaser. It combines all your traditional salsa ingredients, but the main difference is you'll roast all your ingredients first.
Roasting your tomatoes, onions, and jalapenos is what takes the most time with this recipe, but you can still whip this salsa up in under 30 minutes.
Once you finish grilling or roasting your veggies and combine them with the other ingredients, you'll want to let this dip chill before serving unless you prefer salsa that's warm.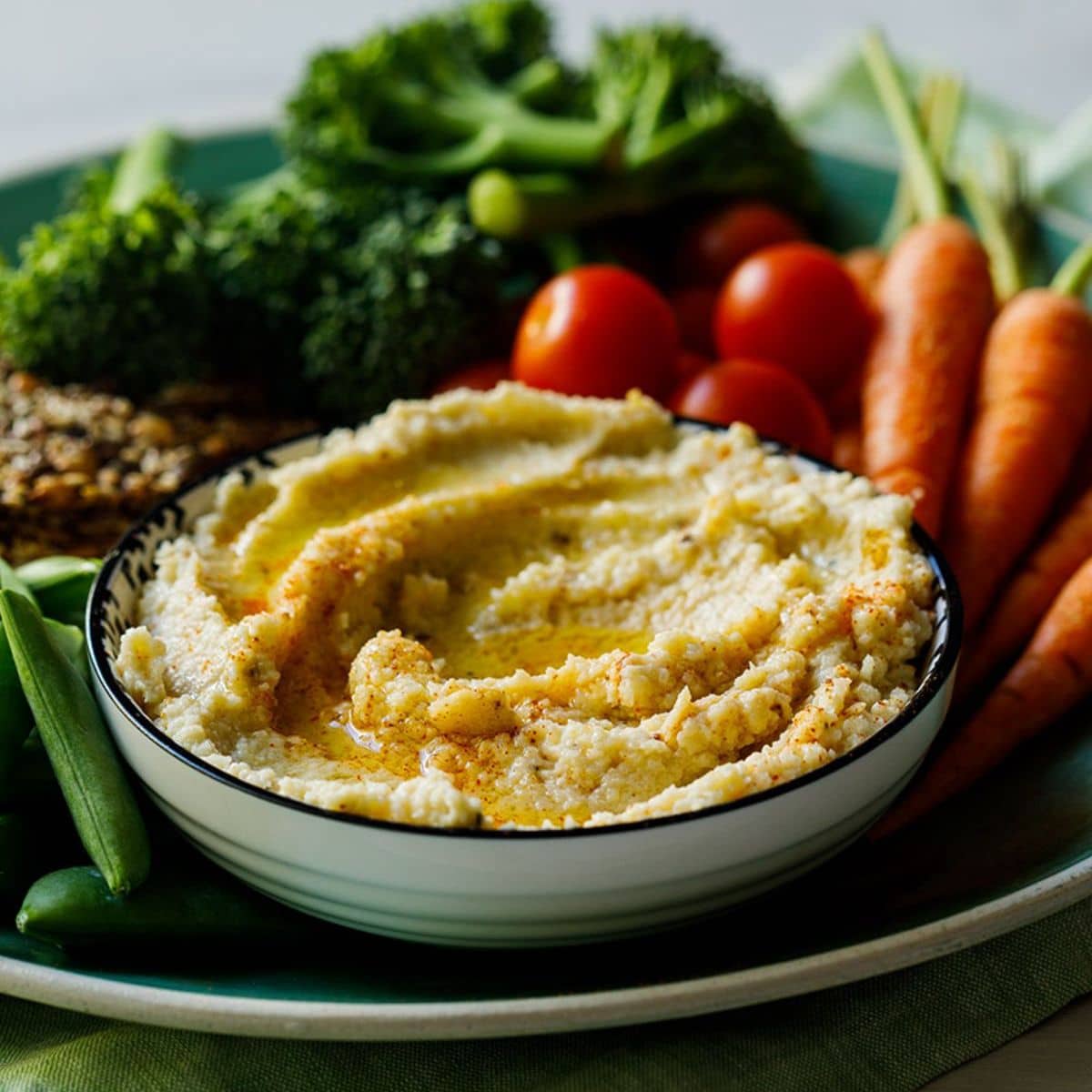 We already mentioned our sweet potato hummus, but cauliflower hummus is another excellent dip to try if sweet potatoes aren't your flavor.
While cauliflower is the star of the show with this recipe, the rest of the ingredients are classic hummus ingredients.
We love serving this dip with tomatoes, celery, and other veggies that go great with other dips. If you make this, you'll have a tasty dip on the table in 55 minutes.
Final Thoughts
Just because you follow a dietary plan doesn't mean you have to miss out on delicious foods. With these 11 delicious dips, you never have to worry about not enjoying a great party dip while following a paleo diet.