Feel like splurging on a nice dinner but don't prefer the fussy restaurant experience? Make lobster tails for you and your loved one(s). Lobster is a luxury, and the price tag certainly reflects it, but lobster is well worth the extra dollars for a change of pace from the regular chicken and pork dishes.
Like a nice steak, the lobster tail is very easy to prepare because the meat itself brings rich flavor.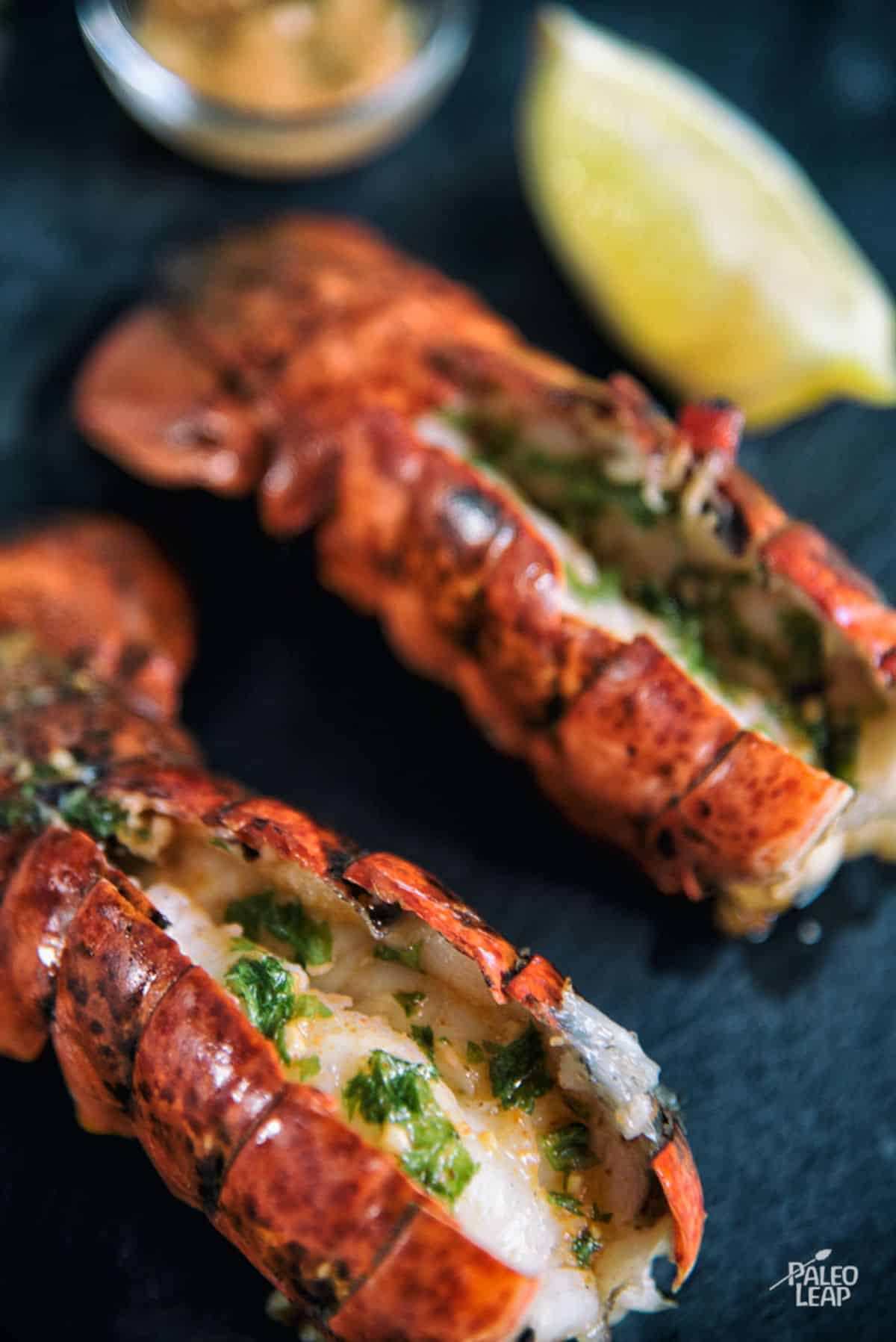 Lobster tails are much easier to prepare than cooking a whole lobster. If possible, try to purchase freshly-caught lobster straight from the ocean.
To prepare the tails, slice each one open by cutting the top shell halfway through lengthwise, then crack it open with your fingers and pour in the sauce. The slightly spicy and nutty-tasting sauce is a mixture of melted ghee, Sriracha, chives, and lime juice.
Serve these tails with a fresh salad or some cooked vegetables. Maybe you're celebrating an occasion with this special dinner, so pour yourself a glass of wine, and enjoy!
Lobster With Sriracha Sauce Recipe
Serves: 4 Prep: 15 min Cook: 8 min
Ingredients
4 lobster tails
¼ cup ghee, melted
2 tbsp. Sriracha sauce
1 tbsp. fresh chives, minced
1 tbsp. fresh lime juice
Garnish with fresh parsley, minced
Sea salt and freshly ground black pepper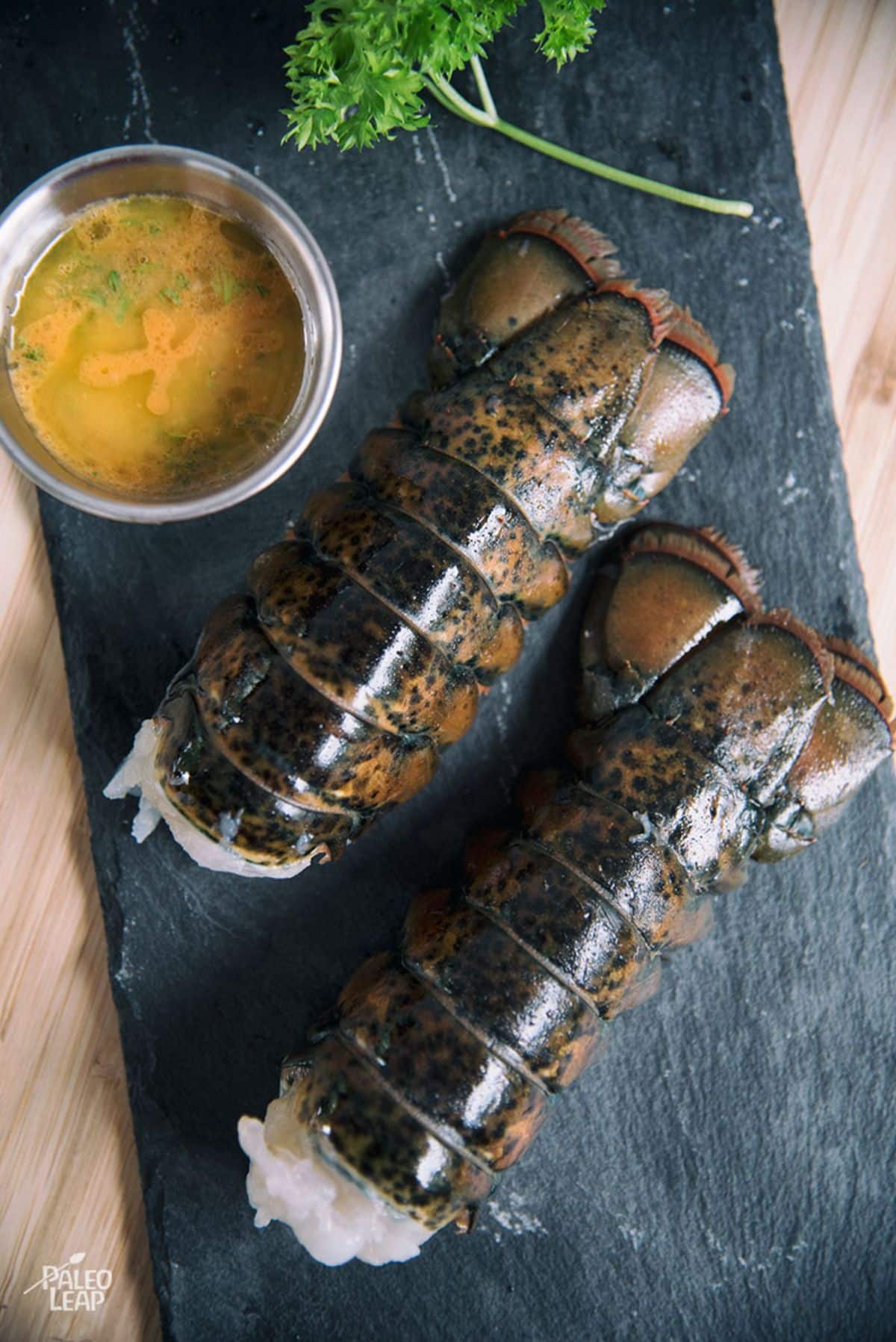 Preparation
Preheat grill to medium-high.
In a bowl, combine the ghee, Sriracha, chives, and lime juice, and season to taste.
Butterfly the tails by cutting halfway through the center of the top shells lengthwise.
Open the top of the lobster with your fingers.
Pour half of the Sriracha-ghee sauce inside all the lobster tails.
Place on the grill and cook for 4 to 5 minutes, meat side up.
Flip and grill for another 2 to 3 minutes.
Serve the lobster with the remaining sauce and fresh parsley.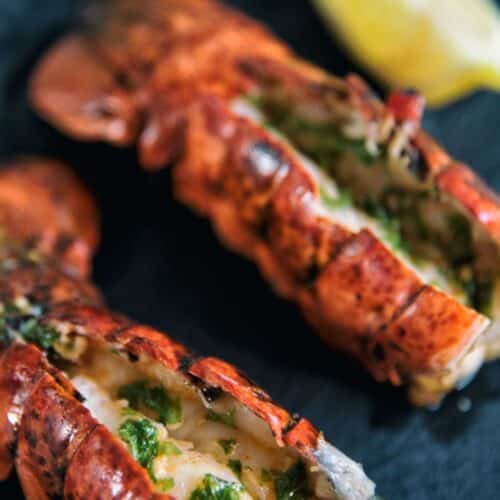 Lobster With Sriracha Sauce Recipe
A fancy lobster dinner in the comfort of your home. This one is with a twist from the use of homemade spicy Sriracha sauce.
Ingredients
4

lobster tails

¼

cup

ghee

melted

2

tbsp.

Sriracha sauce

1

tbsp.

fresh chives

minced

1

tbsp.

fresh lime juice

Garnish with fresh parsley

minced

Sea salt and freshly ground black pepper
Instructions
Preheat grill to medium-high.

In a bowl, combine the ghee, Sriracha, chives, and lime juice, and season to taste.

¼ cup ghee,

2 tbsp. Sriracha sauce,

1 tbsp. fresh chives,

1 tbsp. fresh lime juice,

Sea salt and freshly ground black pepper

Butterfly the tails by cutting halfway through the center of the top shells lengthwise.

Open the top of the lobster with your fingers.

Pour half of the Sriracha-ghee sauce inside all the lobster tails.

Place on the grill and cook for 4 to 5 minutes, meat side up.

Flip and grill for another 2 to 3 minutes.

Serve the lobster with the remaining sauce and fresh parsley.

Garnish with fresh parsley
Nutrition
Calories:
150
kcal
Carbohydrates:
1
g
Protein:
11
g
Fat:
12
g
Saturated Fat:
7
g
Polyunsaturated Fat:
1
g
Monounsaturated Fat:
3
g
Trans Fat:
0.01
g
Cholesterol:
109
mg
Sodium:
463
mg
Potassium:
152
mg
Fiber:
0.1
g
Sugar:
0.2
g
Vitamin A:
177
IU
Vitamin C:
9
mg
Calcium:
58
mg
Iron:
0.3
mg