Rosti is the Swiss take on hash browns – a solid peasant's breakfast of grated and fried potatoes with a huge number of local variations.
The traditional rosti is big enough to fill a whole skillet and cut into pieces for serving, but these miniature versions make delicious appetizers or finger foods for a special brunch.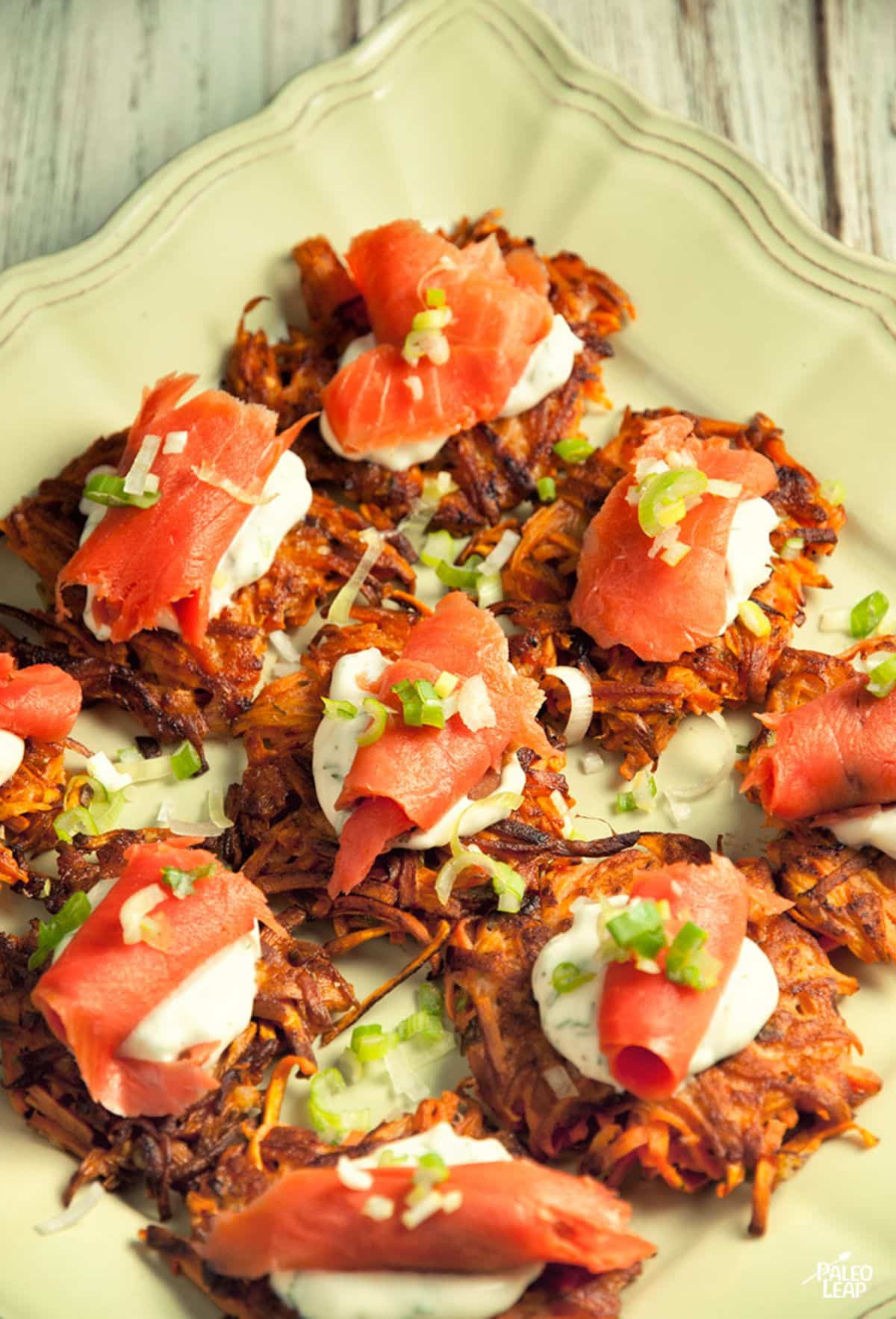 White potatoes are perfectly fine to eat, but this recipe uses sweet potatoes topped with smoked salmon and a rich-flavored mayonnaise for a decadent treat that combines crispy and creamy textures into one perfect bite.
If you're going for a full brunch experience, you'll probably want some supplementary protein to go with these – what about eggs Benedict or deviled eggs with guacamole to keep up the finger-food theme? Add a fruit salad or some berries on skewers to nibble, and you'll have a beautiful spread for any occasion.
Sweet Potato Rosti With Smoked Salmon Recipe
SERVES: 4 PREP: 20 min COOK: 20 min
Ingredients
8 oz. smoked salmon
3 to 4 sweet potatoes, peeled and grated
2 egg whites
2 tbsp. tapioca starch
¼ green onion, finely minced
Coconut oil
Sea salt and freshly ground black pepper
Ingredients for the flavored mayonnaise
¾ cup homemade mayonnaise
¼ cup fresh dill, minced
2 tbsp. green onions, minced
1 tsp. lemon juice
Sea salt and freshly ground black pepper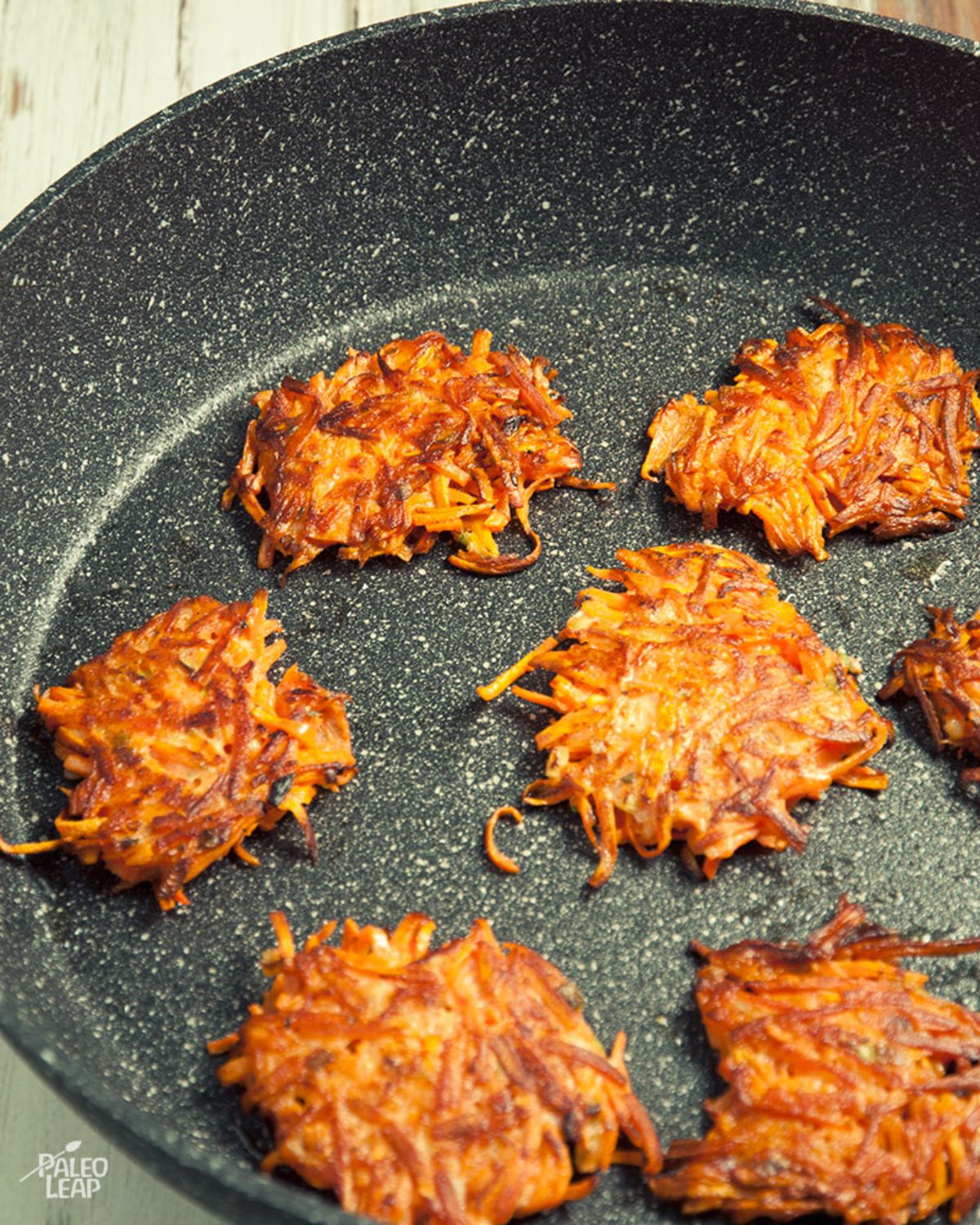 Preparation
Combine the grated sweet potato, egg white, and tapioca starch in a bowl and season to taste with salt and pepper.
Heat some coconut oil in a skillet placed over medium-high heat.
Drop a spoonful of the sweet potato mixture into the skillet and flatten with a spatula to form a small pancake. Cook for about 5 minutes on each side.
Repeat step 3 with the remaining sweet potato mixture.
In a bowl, combine all the ingredients for the mayonnaise, mix well, and season to taste.
Top each rosti with flavored mayonnaise, smoked salmon, and green onions.
📖 Recipe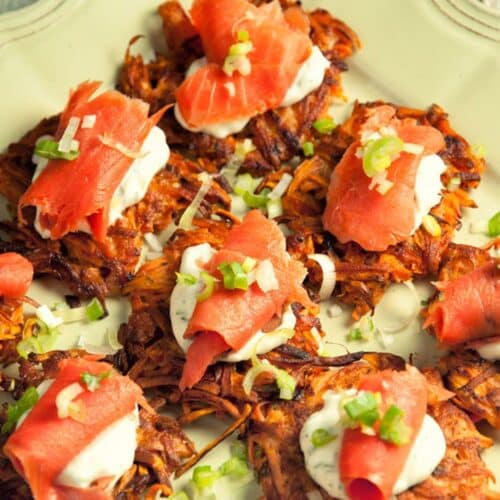 Sweet Potato Rosti With Smoked Salmon Recipe
These miniature rosti are perfect for brunch or any time you want some finger food to impress.
Ingredients
Ingredients for the flavored mayonnaise
Instructions
Combine the grated sweet potato, egg white, and tapioca starch in a bowl and season to taste with salt and pepper.

3 to 4 sweet potatoes,

2 egg whites,

2 tbsp. tapioca starch,

Sea salt and freshly ground black pepper

Heat some coconut oil in a skillet placed over medium-high heat.

Drop a spoonful of the sweet potato mixture into the skillet and flatten with a spatula to form a small pancake. Cook for about 5 minutes on each side.

Repeat step 3 with the remaining sweet potato mixture.

In a bowl, combine all the ingredients for the mayonnaise, mix well, and season to taste.

¾ cup homemade mayonnaise,

¼ cup fresh dill,

2 tbsp. green onions,

1 tsp. lemon juice,

Sea salt and freshly ground black pepper

Top each rosti with flavored mayonnaise, smoked salmon, and green onions.

8 oz. smoked salmon,

¼ green onion
Nutrition
Calories:
472
kcal
Carbohydrates:
27
g
Protein:
14
g
Fat:
34
g
Saturated Fat:
5
g
Polyunsaturated Fat:
19
g
Monounsaturated Fat:
8
g
Trans Fat:
0.1
g
Cholesterol:
31
mg
Sodium:
793
mg
Potassium:
508
mg
Fiber:
3
g
Sugar:
5
g
Vitamin A:
14217
IU
Vitamin C:
7
mg
Calcium:
52
mg
Iron:
2
mg