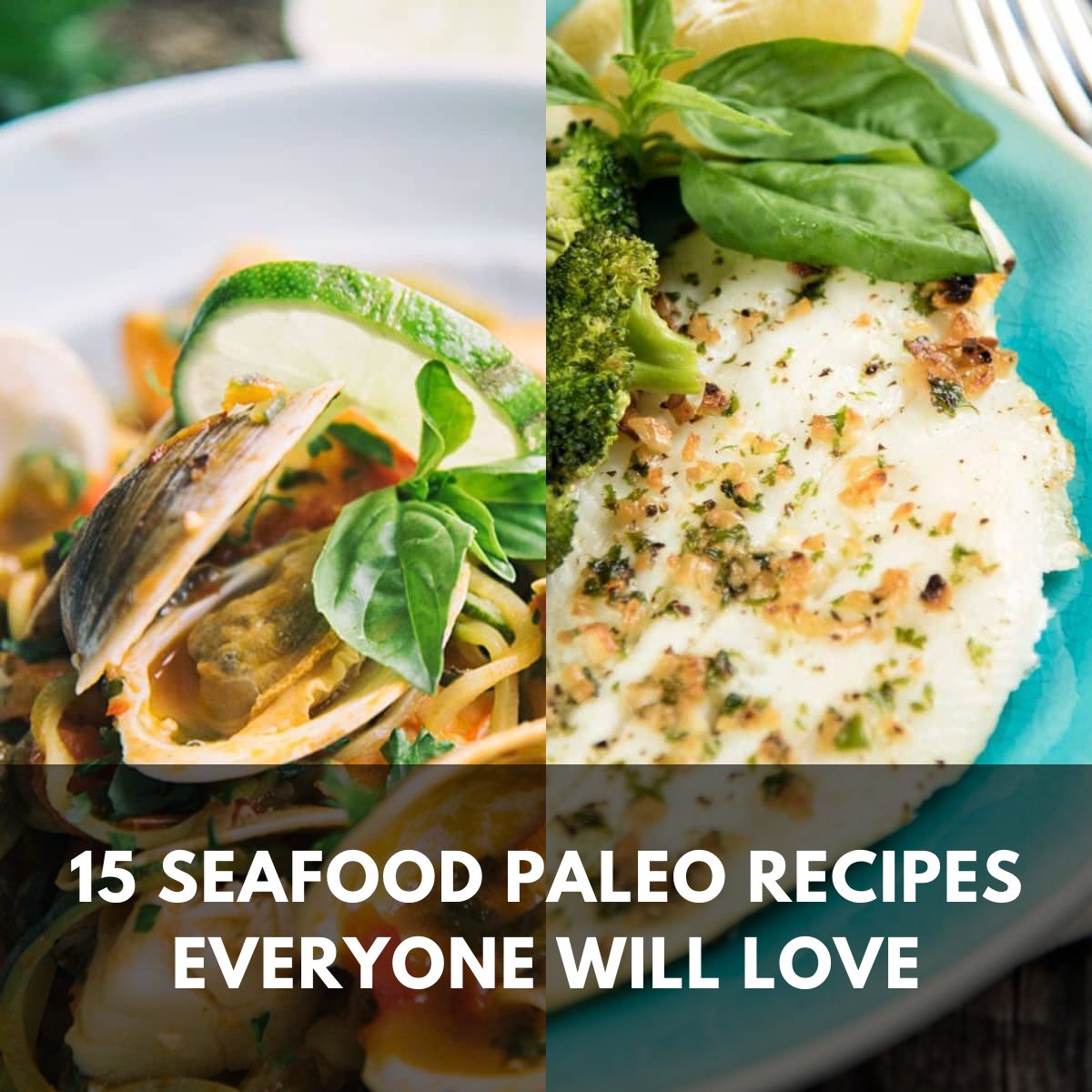 The Paleo diet includes mainly fruits, nuts, vegetables, eggs, lean meats, oils, and fish. Luckily, there are plenty of seafood paleo recipes that adhere to the diet and are delicious!
If you are looking for paleo recipes for your next dinner or gathering that everyone will enjoy regardless of their dietary preferences, check out these 15 seafood paleo recipes that everyone will love!
15 Seafood Paleo Recipes Everyone Will Love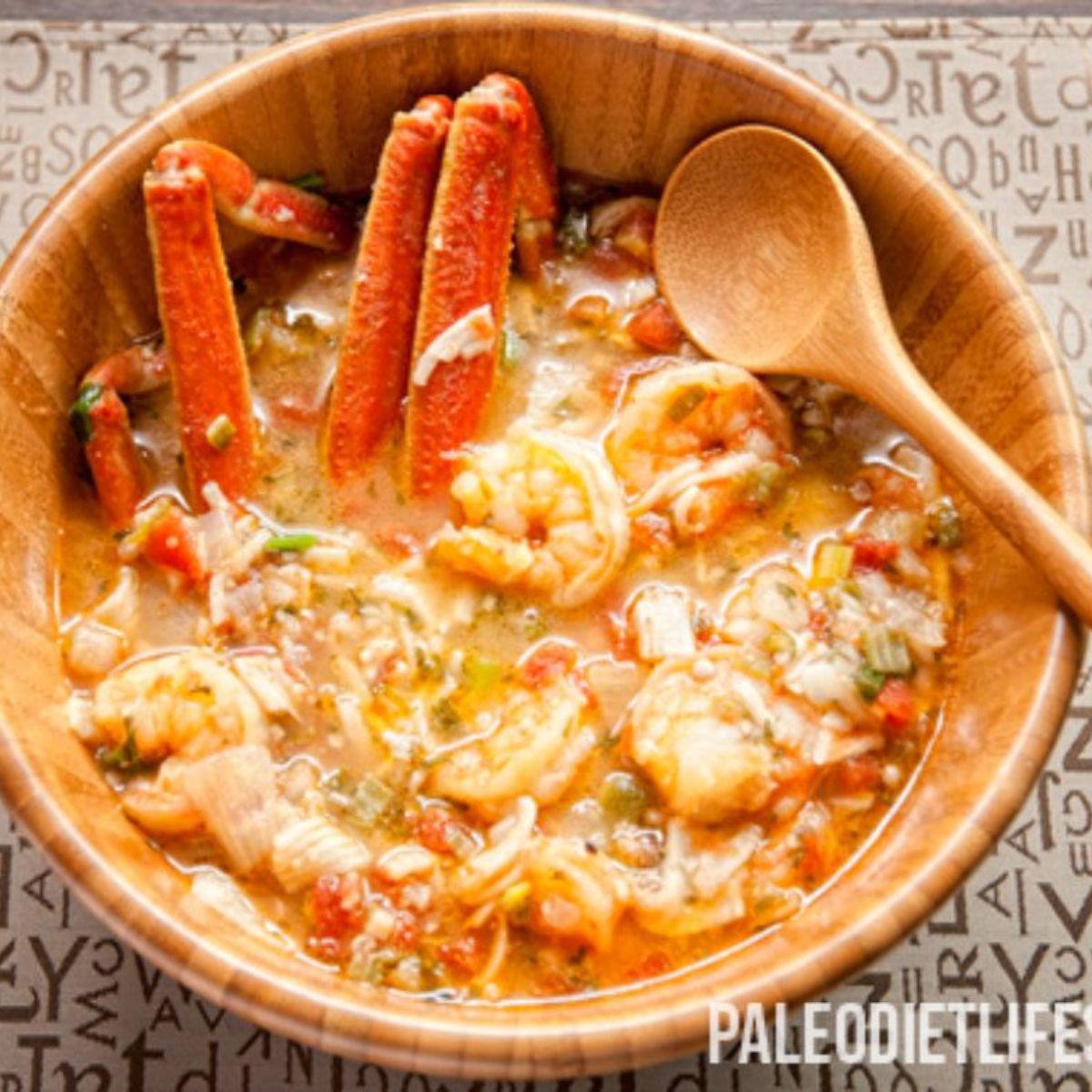 Gumbo is a Louisiana classic. This seafood gumbo is a perfect choice for a Paleo-friendly dish because its ingredients are seafood and vegetables - both of which are perfectly Paleo!
This recipe takes less than an hour to make and feeds up to 6 people. It calls for crab, oysters, and shrimp, but you can add whichever seafood items tickle your fancy!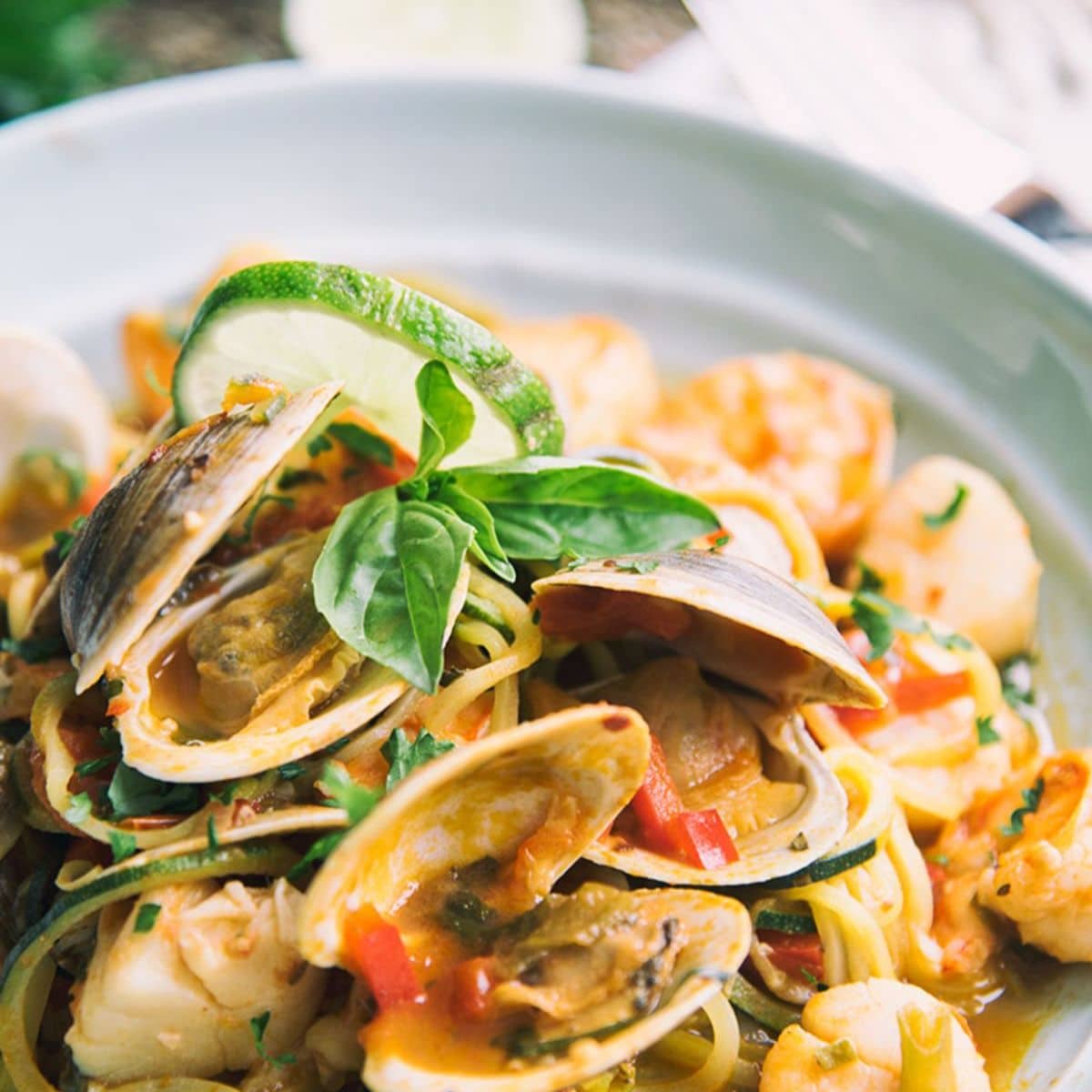 If you want to make a Paleo recipe that is sure to impress guests, this seafood zucchini pasta is it!
It is a bit more expensive than other recipes, but this is a great option if you want a Paleo meal that everyone will love for a special night like a celebration dinner. Its flavor comes from the seafood, so be sure to use the best quality seafood you can find!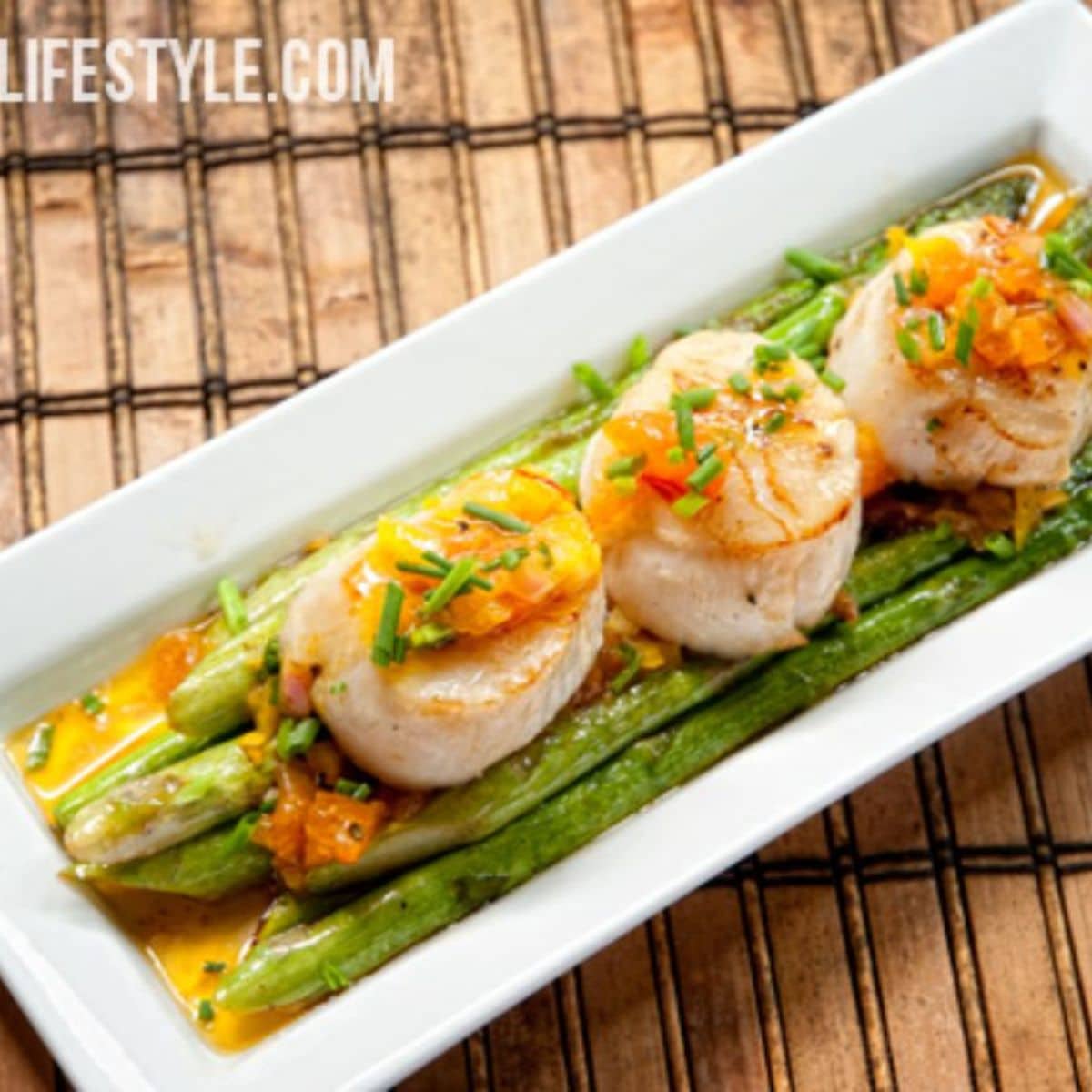 Scallops are part of the mollusk family. They are also fragile, so you should make this recipe with the freshest scallops possible to avoid breakage.
This recipe for sea scallops and asparagus is more of an appetizer than a full meal, but you can pair it with another side item to make a delicious, light meal. Expect to spend about 20 minutes cooking this recipe for two!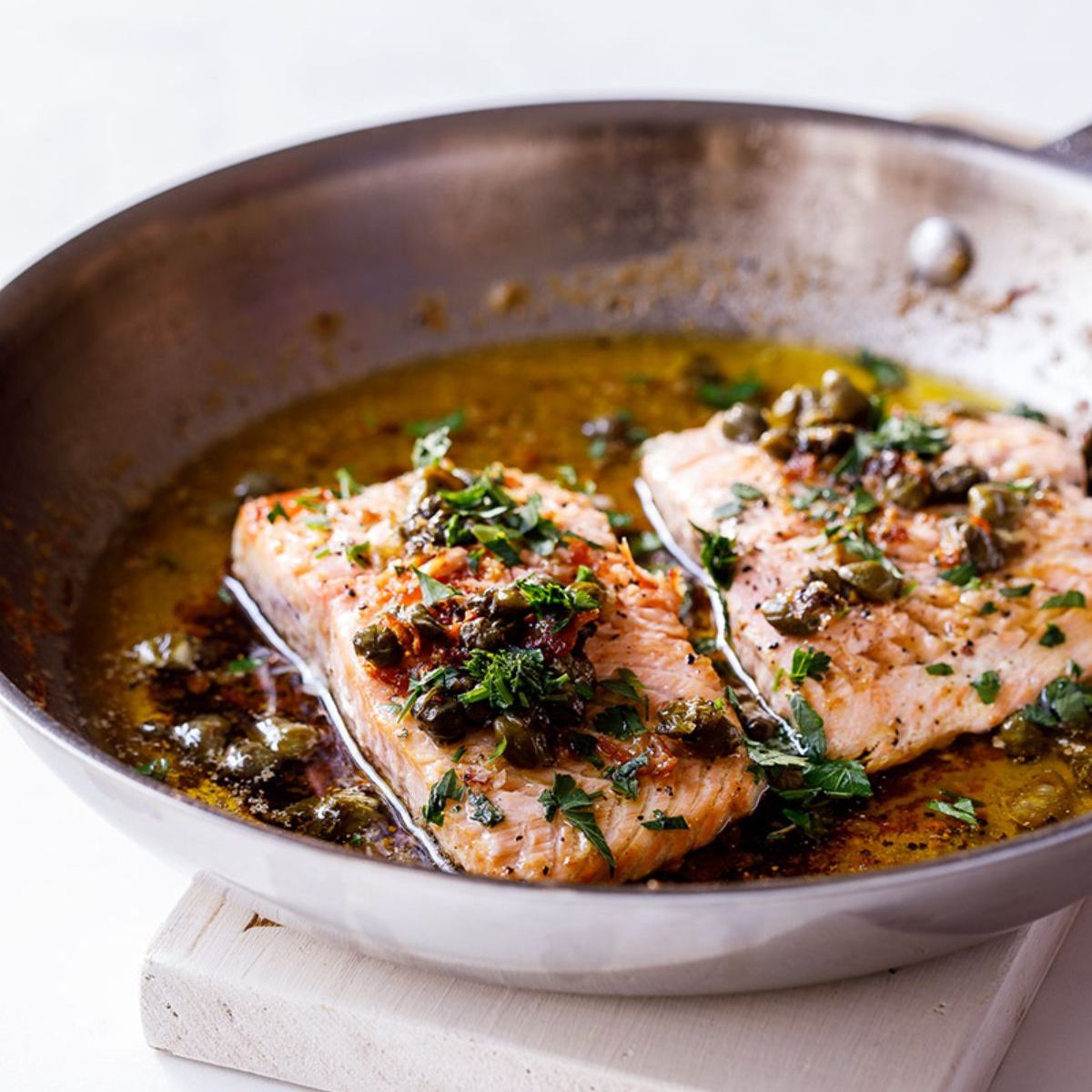 Salmon is a popular seafood item in many diets, including Paleo. It is rich with B12, Selenium, and Vitamin D in addition to the healthy fats and oils it brings.
This recipe for salmon with lemon butter and capers is a perfectly balanced dish because the salmon flavor pairs well with the saltiness of the capers and the zesty lemon. The recipe is for two filets, but you can easily double or triple it for larger groups!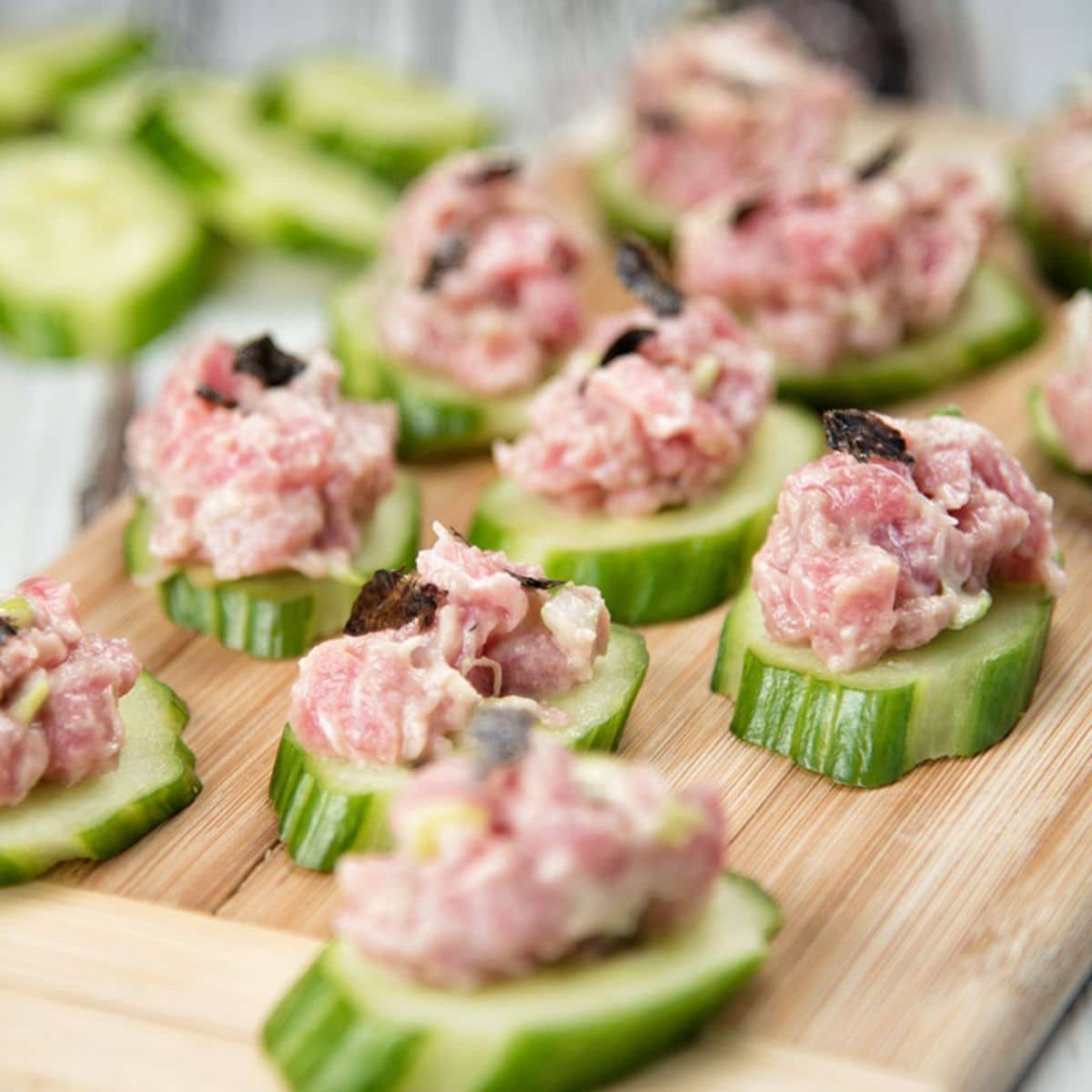 Tartare is an upscale and tasty appetizer commonly done with types of seafood. This recipe for tuna tartare bites is sure to make your guests want more!
The recipe makes enough for two people, but you can easily increase the amount to create hors d'oeuvres for a group! Be sure to use fresh tuna and English cucumbers to get the right texture and flavor.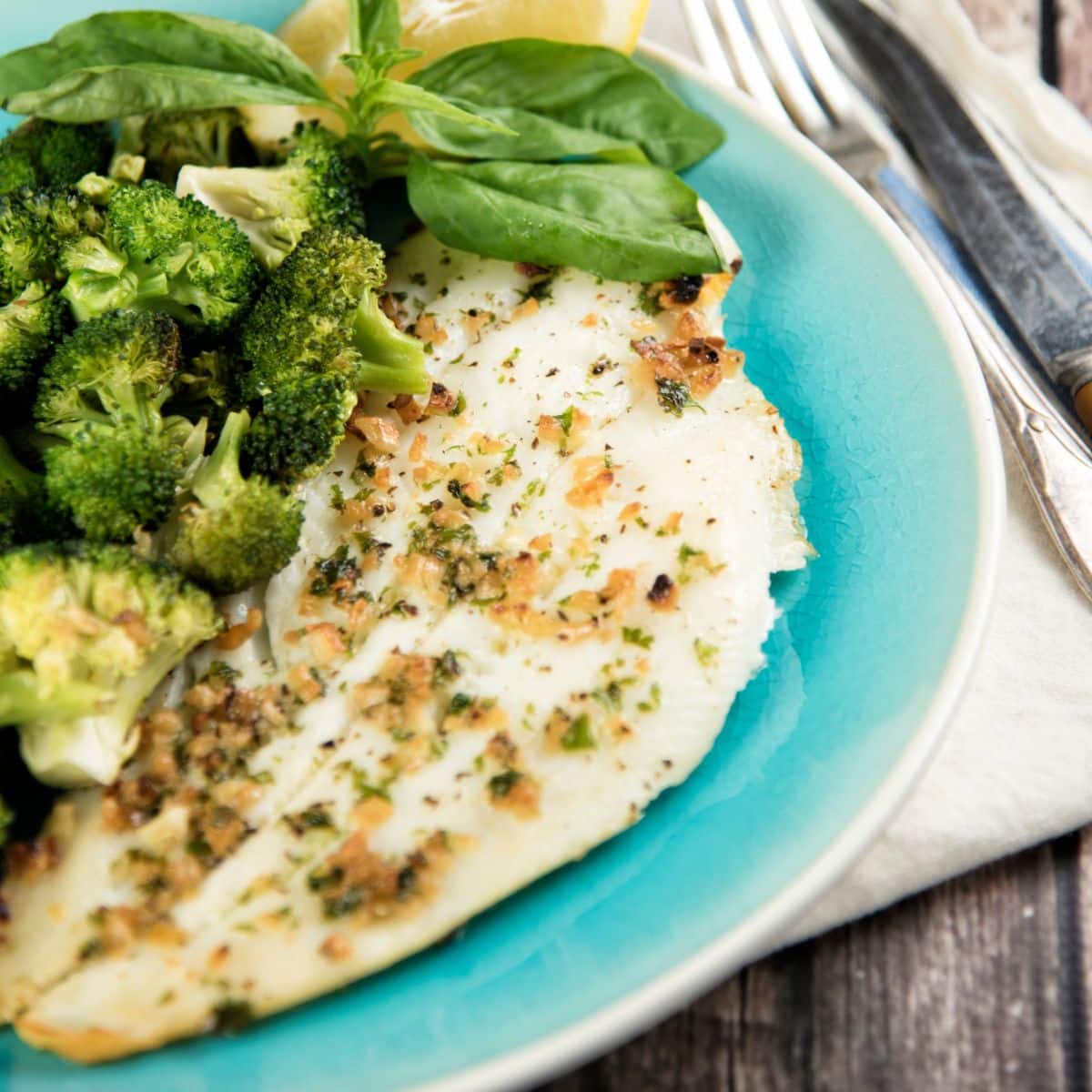 Halibut is a low-carb, high-protein fish that takes on the flavor of what you cook it with. It is a bit more firm than cod, so you can serve it as a main dish without the hassle of it falling apart on the plate.
The recipe makes enough for four people, so fire up the broiler and invite some friends over for a delicious and healthy meal! The addition of broccoli and toasted garlic makes the perfect healthy and Paleo-friendly dish.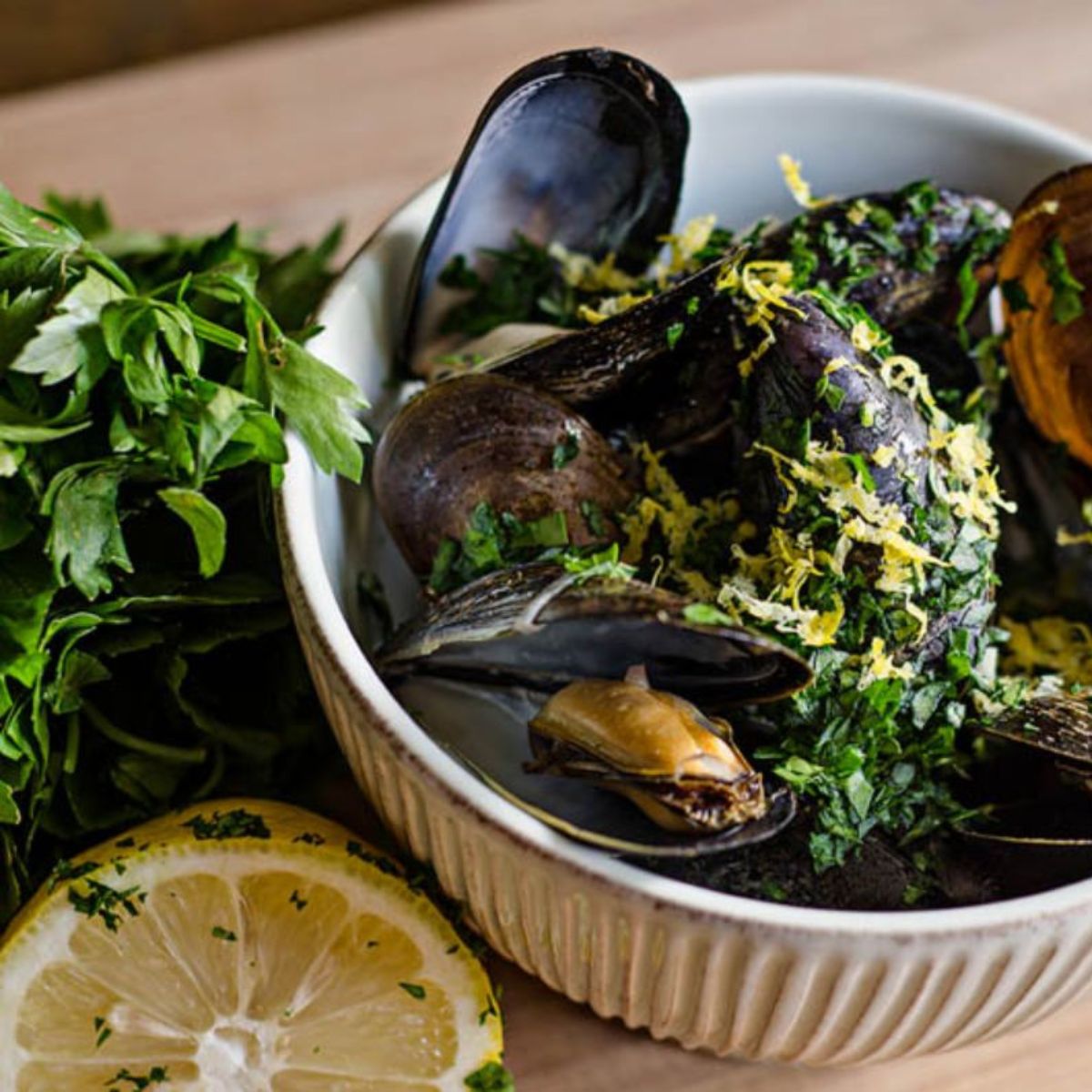 Mussels have a mild taste compared to other seafood options, so the trick to making this delicious meal is to have companion ingredients that pull the weight in terms of flavor. This recipe calls for white wine, lemon zest, parsley, thyme, and a bay leaf to season the mussels.
Be sure to properly clean the mussels to extract optimal flavor and freshness. Avoid using any mussels that are already opened, before cooking, because these are already dead.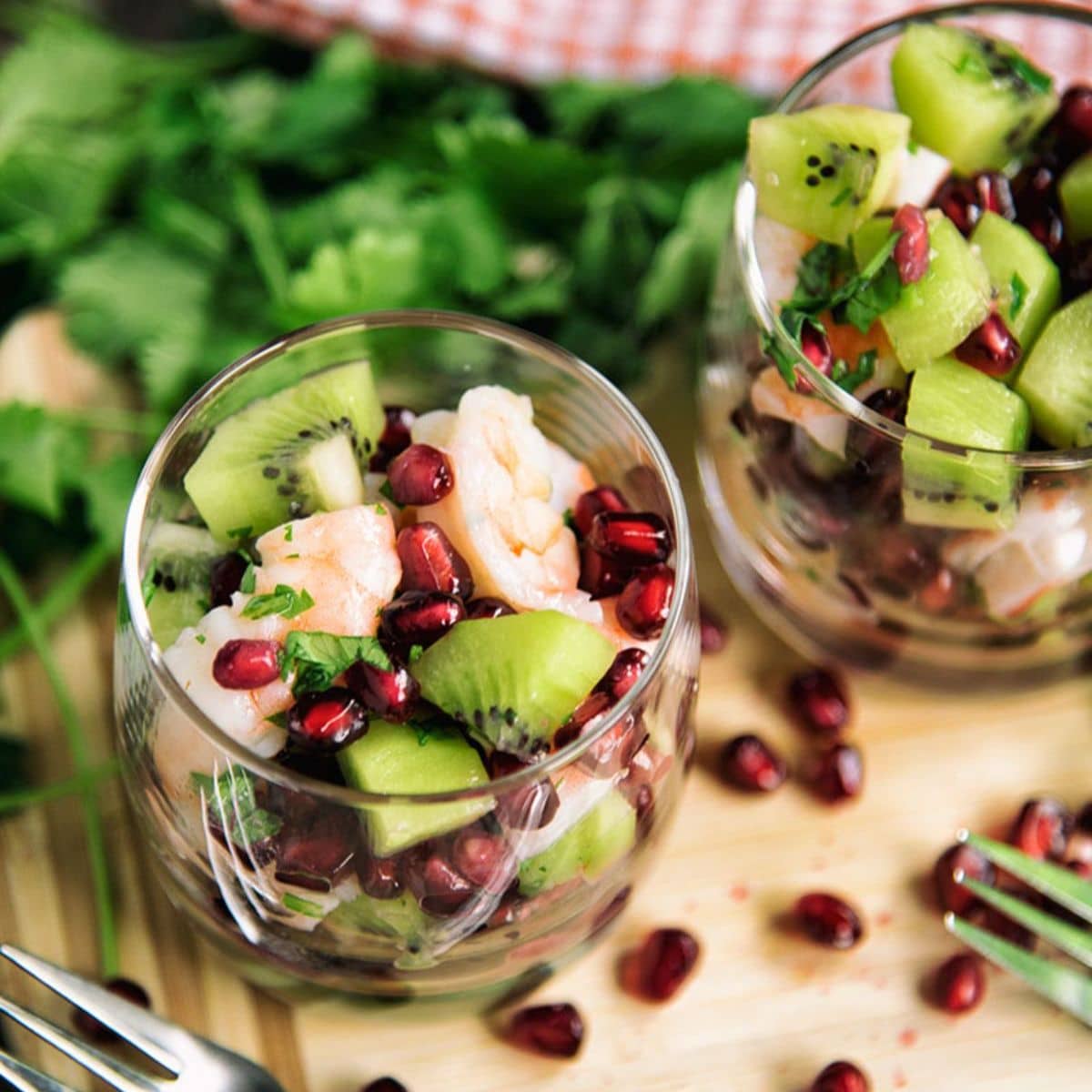 A verrine is a French method of serving food in a small glass container, so the diner can see the colors in the dish. The colors of this particular verrine are bright red, green, and pale cream from the shrimp.
This shrimp, kiwi, and pomegranate verrine recipe is the perfect appetizer option for a summer soiree! The recipe calls for peeled and deveined shrimp, so do not forget this step!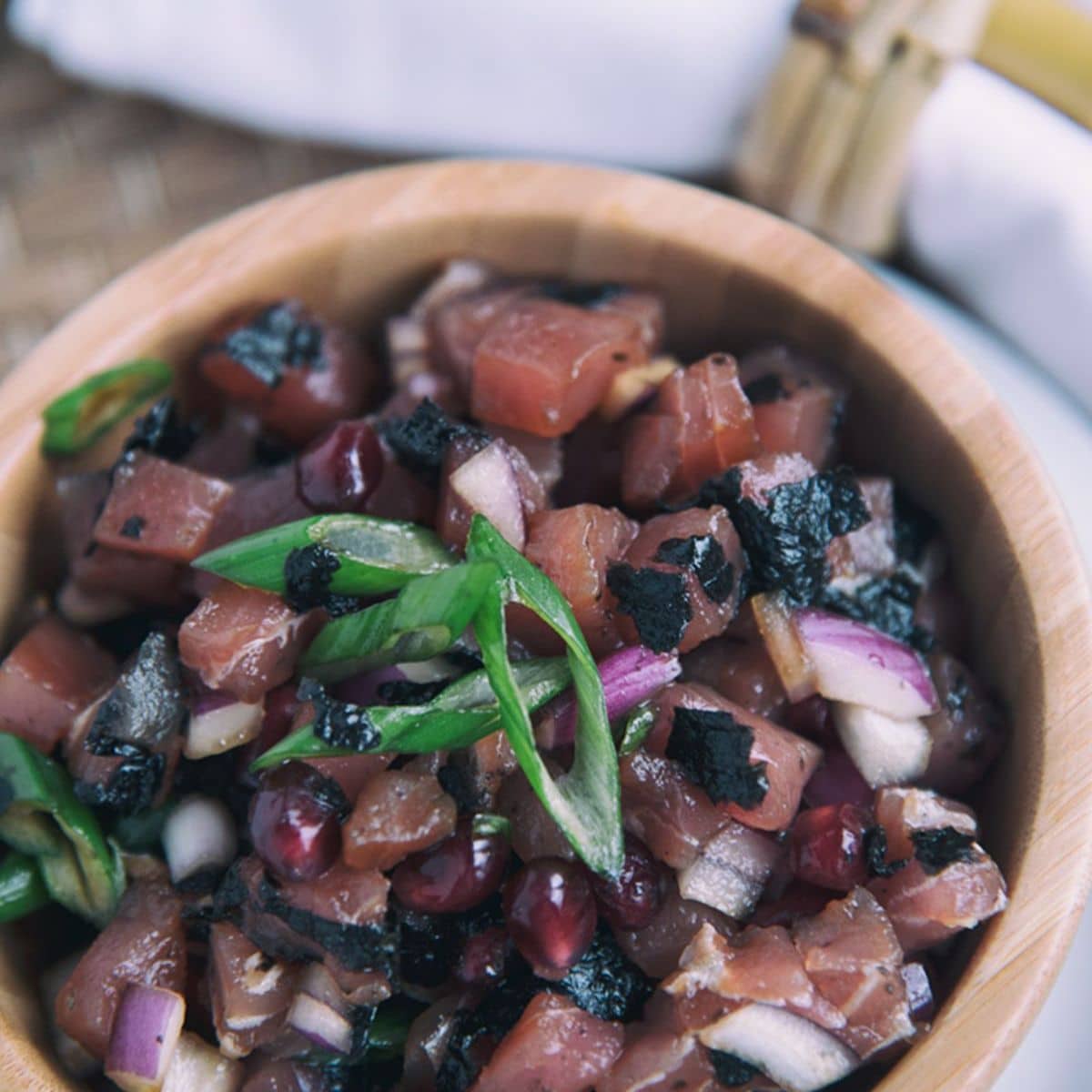 Poke bowls originated in Hawaii. Since then, they have become a larger part of American and Polynesian culture in other areas of the world. They are easy to make on your own, and this tuna poke bowl recipe tells you how to bring the island to you!
The trick to flawlessly completing this recipe is buying ethically sourced, sashimi-grade tuna and nori seaweed sheets!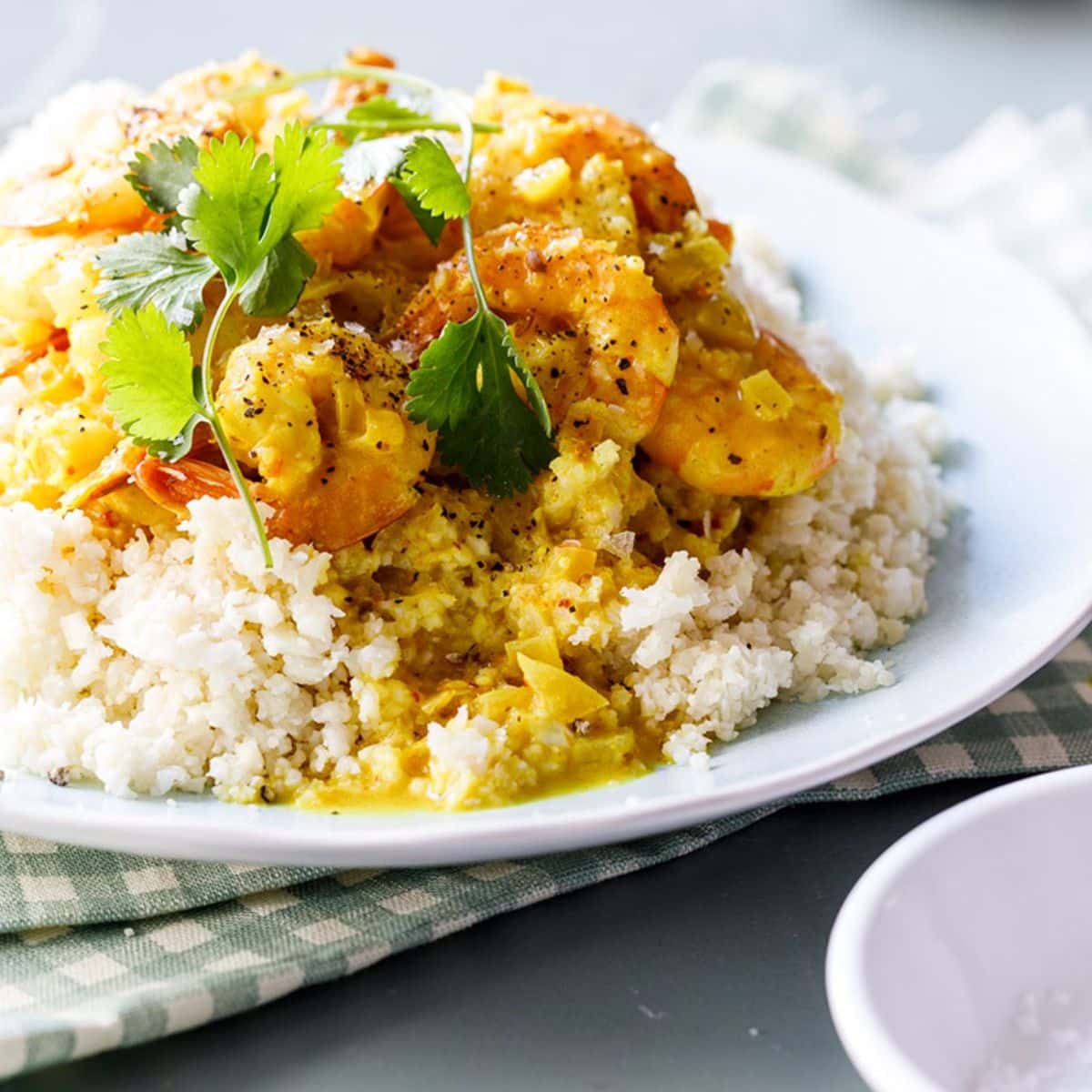 The key to a curry is the spices! This coconut curry shrimp recipe might seem intimidating with its laundry list of ingredients, but it is not that difficult as long as you prepare the measurements of the ingredients before beginning the cooking process.
The recipe calls for the ingredients to make the curry cauliflower rice as the side. Cauliflower rice is a great paleo substitute for rice! The entire dish comes together in under a half hour, so this is the perfect weeknight meal for a family of four.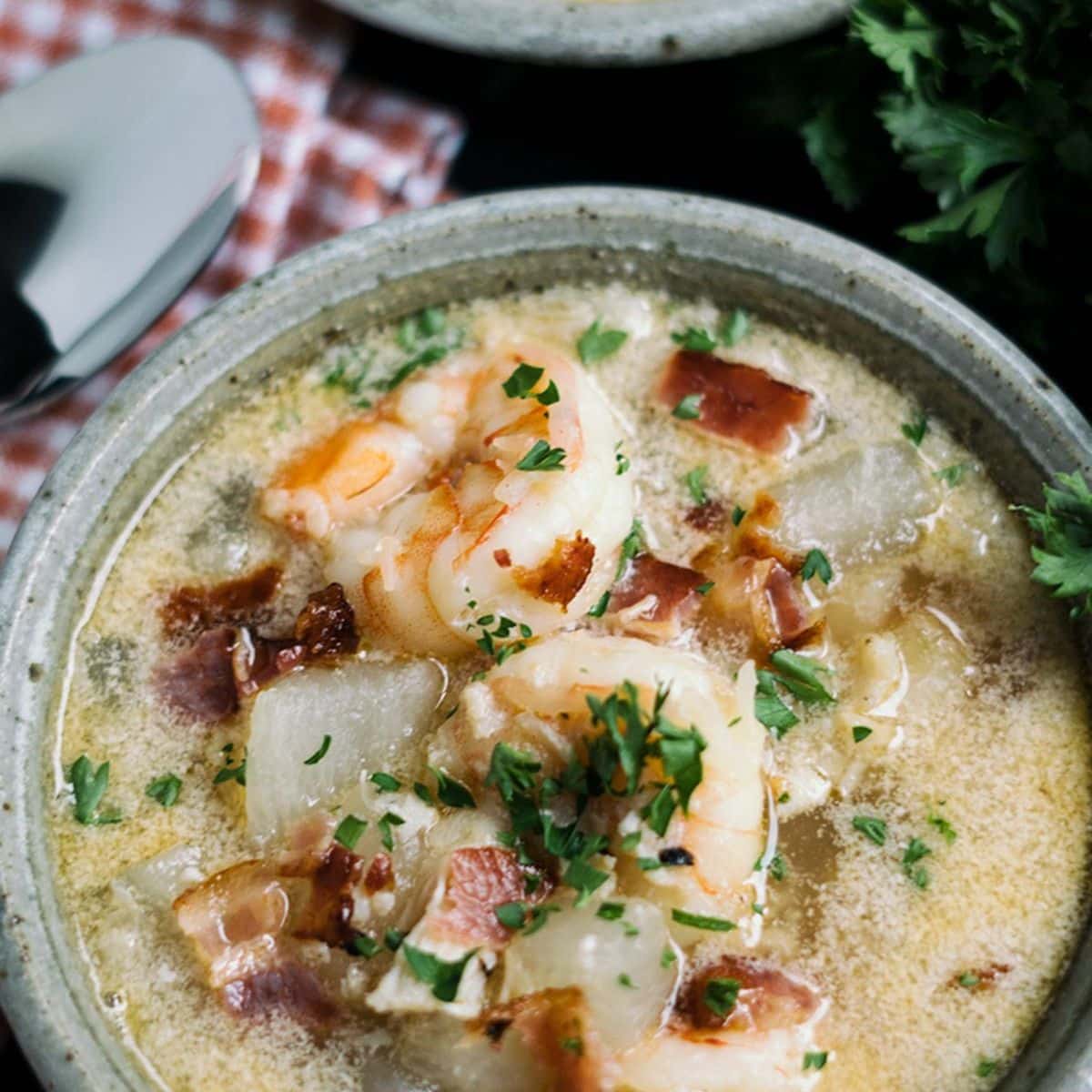 This is a unique recipe because it is Keto-friendly and Paleo-friendly, but it is so delicious anyone can enjoy it! The seafood element comes from deveined and peeled shrimp along with a pound of whitefish and crab meat.
The secret to creating this chowder that does not include potatoes is by adding a daikon radish. It is a radish similar to the texture of a potato and makes for an excellent substitution!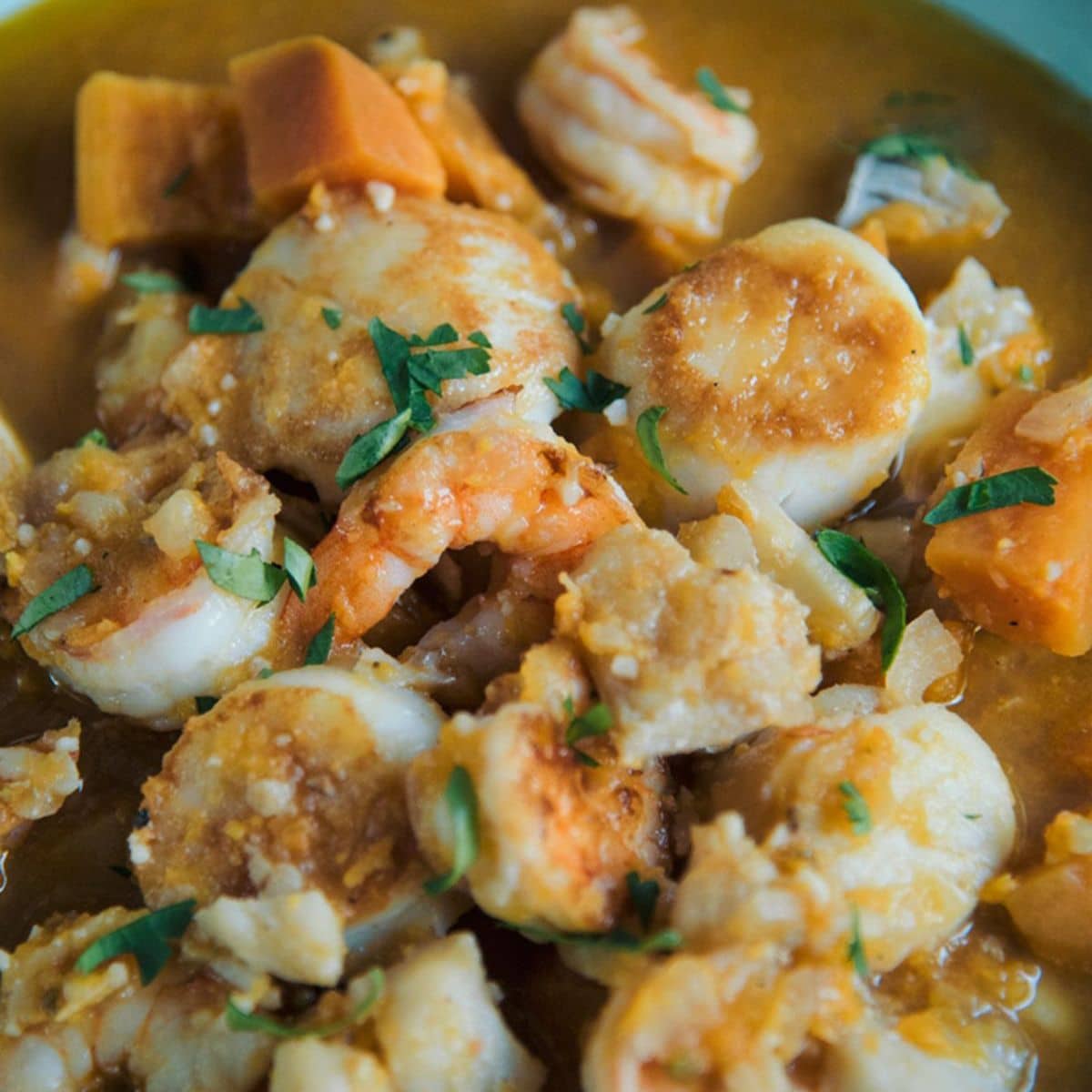 This chowder does implement potatoes, unlike the previous Keto chowder. It calls for sweet potatoes, which add to the thickness of the chowder and a slight sweetness to the flavor profile.
The trick to making a dairy-free, paleo-friendly base is to use coconut milk. There is a subtle flavor difference when you use coconut milk, but it mixes well with the other flavors in the chowder and creates a flavor everyone will love! The seafood in this one is cod, scallops, and shrimp.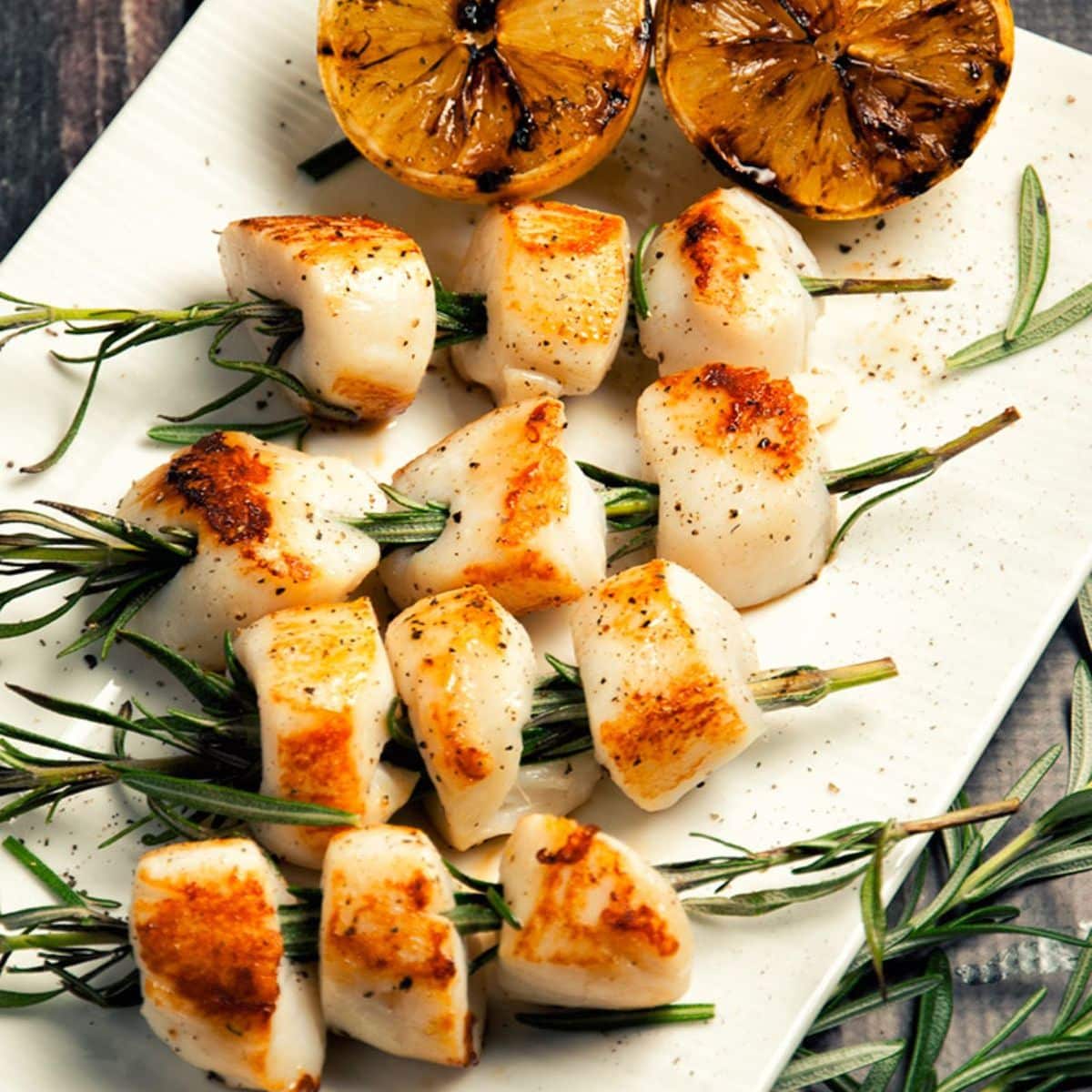 If you are looking for a Paleo seafood entree, these rosemary-skewered scallops provide a delicious taste and excellent visual representation of it. Your guests will feel like they are at a five-star restaurant!
Take a sprig of rosemary, and use it as your skewer to infuse the scallops with the herb from the inside out. In just 15 minutes, you will have a tasty and unique-looking entree to pair with your favorite Paleo side.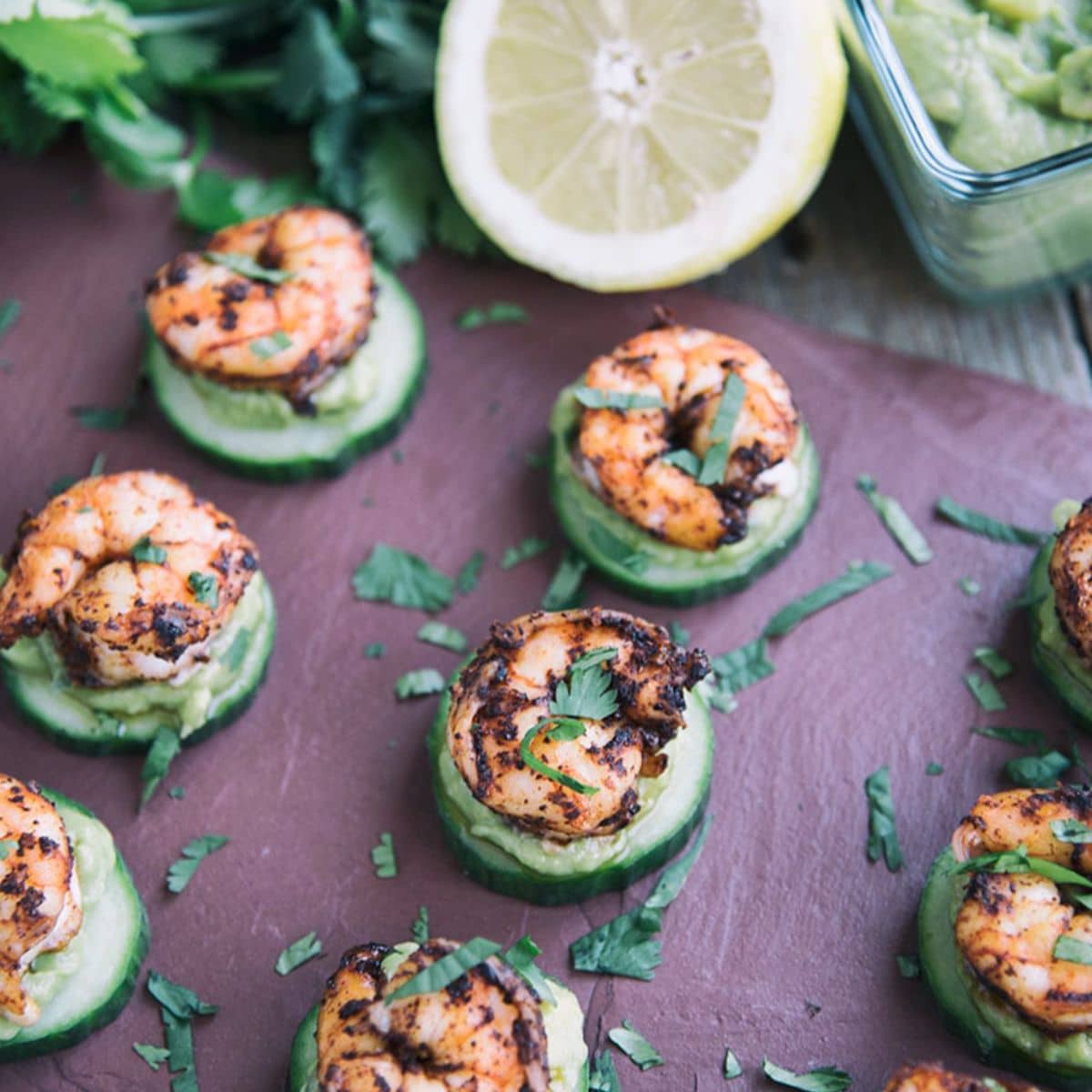 Another hors d'oeuvres-style recipe to serve for your next gathering is these easy shrimp taco cucumber bites. Though it is technically a snack, it is pretty balanced and provides tons of nutrients like calcium and glucosamine!
The recipe includes a combination of spices like paprika, cumin, onion powder, and other Mexican-inspired flavors, along with the shrimp and cucumber. The second part of the recipe is for guacamole, which is used as an in-between layer for the cucumber and shrimp combination.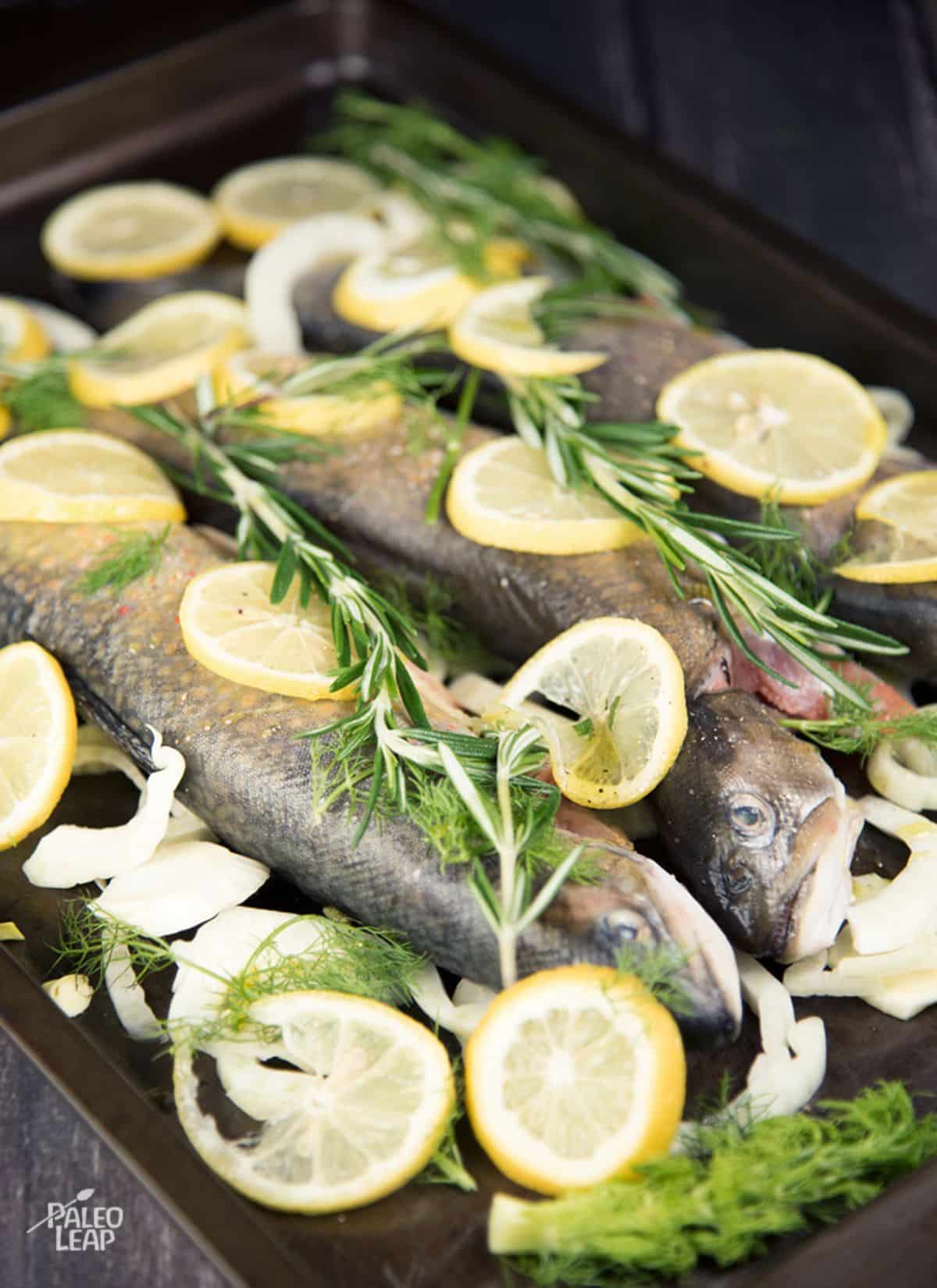 If you want to experiment with cooking with a whole fish instead of filets, trout is a great fish for that! This recipe is for whole fish, but if you would prefer filets, you can adjust the cooking time and ingredient amounts.
The trick to cooking whole fish is to season the fish inside and outside; this way, the flavor is fully immersed into the fish. It is an easy-to-assemble recipe, and it will cook in the oven in under 20 minutes!
Which Seafood Paleo Recipe Will You Try?
Adhering to a Paleo diet is not as difficult as you think, especially when working with seafood. Each recipe on this list takes less than an hour to make, so while you might need to take extra steps in terms of prepping or sourcing ingredients, the cooking time is relatively low.
Which of these recipes will you make for your family, next dinner party, or potluck contribution? No matter which one you choose, everyone is sure to love it!