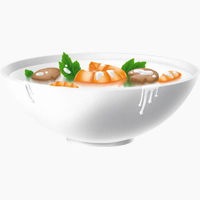 Whether you're starting Paleo for the new year or just trying to stick with it through the cold months, it helps to have easy go-to recipes that you can just throw together with whatever happens to be in the fridge. No fancy meal planning, no last-minute grocery runs, just a few minutes on the stove and dinner is on.
Yes, you too can be one of those people who just sails through dinner prep because everything they need is already in the kitchen – even if you didn't have anything specifically planned and prepped! Just haul out your leftovers and reach for a few staple ingredients to throw together a kitchen sink soup (as in, "everything but the"). Soup is delicious, nourishing, and perfect for the cold, dark winter months.
Here's a quick list of nonperishable staples that give you the basis for a soup with whatever meat and vegetables you have lying around. Is your fridge almost totally bare, with nothing but rotisserie chicken leftovers, half a bag of spinach, and a random container of those pre-chopped onions that you bought and forgot about and now really need to use before they go bad? You can make soup with that, and it can actually be very delicious, as long as you have the right staples on hand!
Here's a list of 7 nonperishable staples to stock your pantry with:
1. Coconut milk
Coconut milk is the Paleo answer to cream-based soups. Throw a big can of coconut milk or cream into tomato or pumpkin soup, or use it as the base for Paleo cream of mushroom (or cream of anything else, really). It makes almost any soup creamy and delicious, and it's full of healthy fats, especially medium-chain triglycerides.
Tip: Don't buy "light" coconut milk – it's just regular coconut milk, but diluted, so you're paying for extra water in the can. If you want a less intense flavor, just use half a can of regular and dilute it at home for free. Extras can be kept covered in the fridge for a few days – for longer than that, just stick the whole can in the freezer until you need it for the next time.
Use it in…
2. Bones/bone broth
Coconut milk is great for creamy soups, but sometimes you want more of a clear broth – think chicken vegetable, or French onion. Bone broth is on-trend right now, but you absolutely don't need to pay $5 for a tiny little carton of it – save the bones from your next chicken dinner and make it yourself for almost nothing. It's helpful to make the stock itself ahead of time and then freeze it for super quick weeknight cooking (you can also simmer it for a while to concentrate it before freezing, if your freezer space is a precious commodity).
No time to babysit the oven? Pop the bones into a slow cooker and leave them to simmer while you're off saving the world.
Use them in…
3. Lime juice or limes
Lime juice peps up a soup and adds some zing to it – it's great with sweeter vegetables like squash and sweet potatoes. It's also great with Asian-inspired soups – if you're making something with a lot of coconut, some lime juice can keep the soup from getting too heavy. Fresh limes will keep for a while in the fridge, but if you really want something you can grab and forget, a bottle of lime juice can be helpful.
Use them in…
4. Frozen riced cauliflower
Riced cauliflower adds heft and texture to almost any vegetable soup; it's also a low-fuss substitute for rice in traditional recipes. Craving some chicken and rice soup on a cold day? Grab the riced cauliflower and get cooking! If you pick up a frozen bag of the stuff next time you go shopping and just toss it in the back of the freezer, it'll stay there indefinitely for emergencies.
Use it in…
5. Canned tomatoes
This one would almost be a no-brainer (and almost all of us have some canned tomatoes stashed away somewhere for totally non-soup-related reasons), but it's worth mentioning just because tomatoes can pep up a soup so wonderfully. Tomato sauce, tomato paste, whole tomatoes, and diced tomatoes all have their uses, depending on what kind of texture you want.
Use them in…
6. Curry powder
Why curry powder? Because it's a semi-magical way to make almost any leftover or otherwise uninspiring vegetable tasty. Curry powder gives you a lot of flavor for very little effort and it's particularly great for warming fall soups. Don't restrict it just to Indian-inspired recipes, either – it's good as a supporting flavor in all kinds of soup.
Use it in…
Tip: a good AIP-friendly alternative go-to flavor could be ginger. It's used in a lot of soup recipes and has a similar ability to add some zing to a bowl full of broth and vegetables.
7. Tapioca starch
Soup base too watery? Were you going for something thicker, more like a gumbo? Don't worry – tapioca starch has you covered! This is a Paleo-friendly substitute for cornstarch or other thickeners; it sucks up a ton of water and can even be used as a kind of roux base.
Use it in…
Tapioca starch isn't an essential element in anything, but it's an easy nice-to-have that you can just pick up and then forget until you need it.
What's your favorite pantry staple that you pull out all the time to make easy weeknight meals? Let us know on Facebook or Twitter!